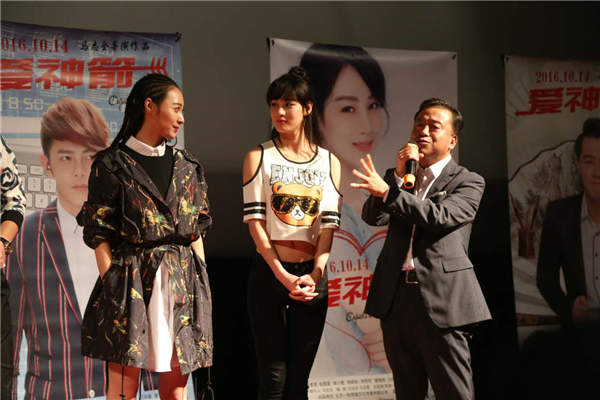 Cast members promote the new film Cupid's Arrow at a press conference. [Photo provided to China Daily]
A modern twist spawned from western myths, Cupid's Arrow will hit Chinese mainland theaters on Oct 14.
The coming-of-age romance fictionalizes a studio servicing young people who adore someone but cannot win their hearts. The studio writes and arranges "unexpected" meetings for customers to ensure they will be loved by the one they love.
At an event on Oct 10, scriptwriter-turned director Ma Zhiquan said the story was inspired by his two-decade penning on romance tales, set in ancient or modern times.
The film has again garnered eyes by pulling the crosstalk star Cao Yunjin into a scandal.
Last year, domestic media outlets reported Cao was fired on the first day of shooting Cupid's Arrow, as the actor was too arrogant to obey the contract, such as being two hours late and making more than 200 crew members wait for him.
Ma revealed at the event that Cao has yet to return 400,000 yuan ($60,000), which was given as an advanced payment, but Cao didn't fulfill the contract.
But Cao's agent said Cupid's Arrow is using the issue as a promotional tool and revealed Cao has sued the producers for breaking the contract and harming his reputation, reported Beijing Youth Daily on Oct 12.