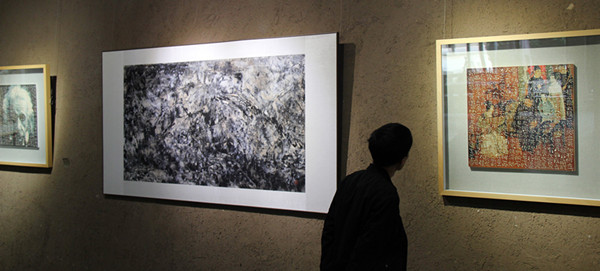 The show Reversed Pervasion displays how Chinese ink painters carry on the ancient genre in new ways.[Photo provided to China Daily]
Reversed Pervasion is an ongoing exhibition that shows artists' diverse, experimental explorations of ink, water and paper-three traditional mediums of Chinese painting.
The show at Beijing's Fine Arts Equivalence gallery communicates how painters of today have carried on with Asian wisdom and aesthetic habits, according to curator He Ji. He says it also reinforces that modern changes in ink art can reshape Chinese art and influence the cultural dialogue between the East and the West.
Depending less on conventional approaches in color and composition, the featured Chinese painters have responded to human emotions in an ever-changing digital world.
Beijinger Zhang Xinjian, for one, has been experimenting with modern color schemes on paper.
The 71-year-old was inspired by the abstract expressionist movement in American painting when producing his work Spring Snow. He mainly uses black, gray and blue to show the poetic scenery of melting snow in early spring.
"Respecting traditions doesn't mean that we should not innovate on a groundbreaking basis," Zhang says. "Many of us (ink painters) have yet to develop individual styles. We're still on the way."
Up-and-coming calligrapher Xia Pencheng, who specializes in caoshu (cursive script), ventures into ink painting by incorporating a rhythmic pace of writing he has practiced with calligraphy since childhood. He is a student of well-known calligrapher Shen Peng.
Xia says most ancient artists were required to do many things-paint, practice calligraphy, compose verses and carve seals-but today's artists mostly confine themselves to a particular art form.
Another participating artist, Song Junsheng, who entered the art circles as a calligrapher, has explored his "incense" approach since the late 1980s. He lights incense sticks to burn Chinese characters and seal marks while painting on paper. Song also uses burned scrolls and paintings to form installations, extending traditional art to a three-dimensional realm with more possibilities.
Song says that people traditionally communicate with heaven by burning incense sticks. Through this ceremonial process of creating, he invites his audience into a space where one forgets his physical being and the material world, and may be inclined to achieve mental peace.
He Ji, the curator, says the domestic market for Chinese art had witnessed a lot of hype around 2004, with the bubble finally bursting in 2009. Many works in the past three decades were done by artists who used Chinese brushes and paper but painted to cater to Western tastes. That led to a fall in prices of such artworks in the country.
"Artists realize that to retain an Asian temperament, they need to make kaleidoscopic attempts. In this respect, Japanese mono ha artists have set a good example," he says.
Mono ha, which means "school of things" in Japanese, was started by a group of artists who emerged in that country in the late 1960s with culturally unique works.
He says that, to establish a stronghold on the international art scene today, Chinese ink art needs both young artists and innovative ideas.
If you go
9 am-6 pm, through Oct 26. Block C 106, Shangpu Art Zone, Songzhuang, Tongzhou district, Beijing. 010-8951-5019.