Young chef heading for Escoffier finals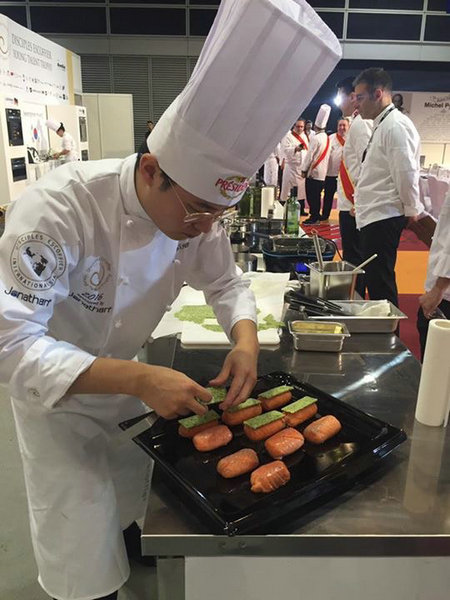 Shao Junting wins the Disciples Escoffier Young Talent Trophy for Asia recently after creating the best nicoise-style tournedos among all the contestants.[Photo/ China Daily]
The white-clad contestants were all under the age of 25, with less than five years of restaurant-kitchen experience. After preliminary contests in seven Asian countries and regions, Shao Junting, who was representing China, claimed the Disciples Escoffier Young Talent Trophy for Asia recently, with judges noting "his meticulous techniques and attention to the plating details, as well as his cooking skills".
Just two points behind was first runner-up Yorick Chin Chiang Soh, representing Macao, while Hong Kong candidate Hilda Ho was the second runner-up.
Shao will compete in the world final contest, to be held in France in February, says chef David Jean Marteau, leader of the Escoffier competition team.
Shao, who works at the Ritz-Carlton Shanghai in Pudong, won the spot to represent China at the Asia final after creating the best nicoise-style tournedos with bearnaise sauce and crepes suzette among all the contestants.
This is the ninth year for the Disciples Escoffier Young Talent Trophy, with the Asian regional selection taking place at the Restaurant and Bar Show 2016 last month in Hong Kong.