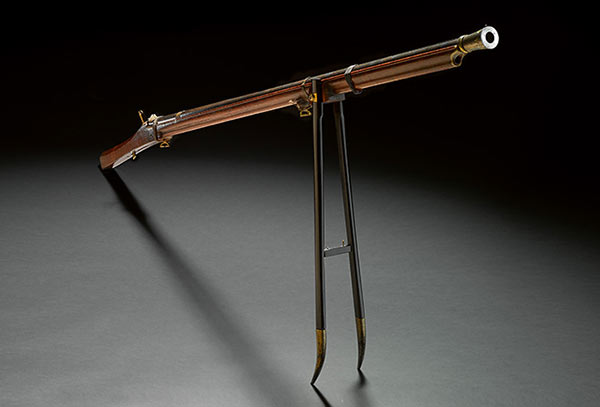 The imperial matchlock musket owned by Emperor Qianlong. [Photo/sothebys.com]
A superb imperial matchlock musket will be sold at Sotheby's in London in November with an estimated price of 1.5 million pounds ($1.85 million).
This rare and exquisitely produced musket is the first Chinese firearm with an imperial reign mark to be offered at auction.
According to The Guardian, the musket was manufactured in the 18th century, specially produced for Qianlong Emperor (1711-99) in the Qing Dynasty (1644-1911). It is decorated in gold and silver, and inscribed with Chinese characters meaning "supreme grade, number one" on its barrel.
Robert Bradlow, the senior director of Chinese works of art at Sotheby's in London, said that the musket represents the pinnacle of Chinese imperial craftsmanship, and it is "one of the most important Chinese treasures" ever auctioned at Sotheby's.
Emperor Qianlong, reigning from 1735 to 1796, was an avid hunter and art collector, who possessed a wide variety of imperial muskets.