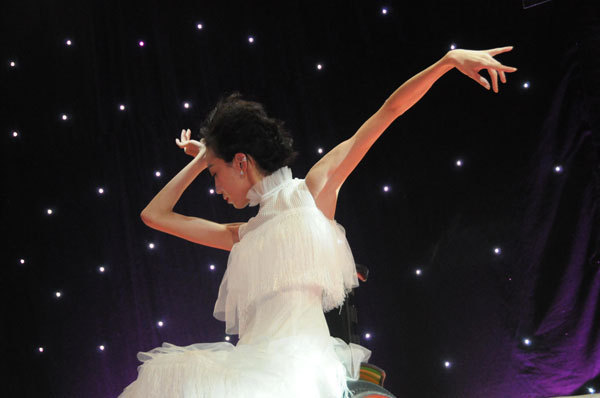 Chinese artist Liu Yan dances with her hands on her wheelchair at the Life Goes On charity gala in Vienna, Oct 15, 2016. [Photo/Xinhua]
She can no longer walk, but she never stopped pursuing her dream of dancing, now only using her arms.
Liu Yan, 34, won a Tara Award at the Life Goes On charity gala in Vienna on Saturday due to her achievements in hand movement choreography of Chinese dance. It's the first time a Chinese dancer was awarded the honor, which is dedicated to showing respect to those who didn't give up hope, continued to challenge themselves and made extraordinary accomplishments in spite of cruel blows in life.
Liu is famous for classic Chinese dance. In 2008, the excellent dancer with a promising career was supposed to perform as one of the lead dancers at the opening ceremony of the Olympic Games in Beijing, but accidentally fell from the stage during a rehearsal before the show. She suffered serious spinal cord injuries and can no longer stand up.
But she continued to develop her passion for art.
Due to her achievements in studying and promoting hand gestures in Chinese dance, she is now hailed as "dancer in wheelchair".
"The most important thing in life is to conquer yourself. And the real obstacle is not from the body, but from the mind," Liu said at the award ceremony on Saturday.