She's using business skills to craft a successful brand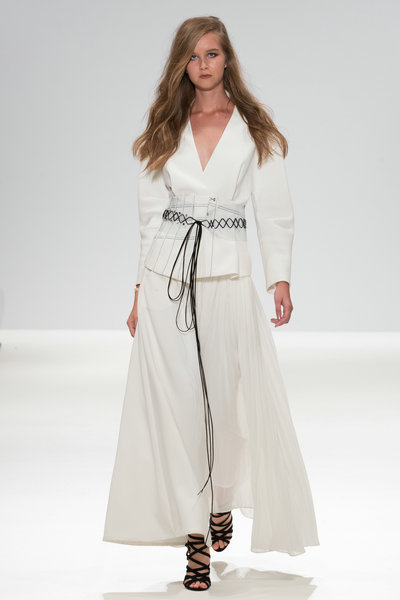 Models showcase creations by designer Yu Ge during the recent London Fashion Week.[Photo provided to China Daily]
Most designers think design first and business later. Not Yu Ge.
The Parsons-trained designer retuned to design only after spending years gaining business experience at top fashion houses.
The young Chinese designer had her runway debut at Fashion Scout, a platform for new designers, at London Fashion Week recently.
A collaboration with AtoG, a Chinese lingerie brand, the collection is inspired by Chinese ink painting and rock 'n' roll.
With silk and lace as its staple fabrics, the collection features dresses, shirts and skirts, demonstrating femininity in a strong and independent way.
Born in 1985 in Changchun, Jilin province, Yu spent her childhood in Japan.
She returned to China as a teenager and later moved to New York.
Yu, who earned a bachelor's degree in fashion design at the Parsons School of Design, has always harbored an interest in business and aspired to set up a fashion label some day.
"My goal is not to be remembered as a famous fashion designer, but to create a successful brand," Yu says.
Recalling how she started out, she says that a week after she arrived in New York, she started an internship at Ralph Lauren and later went on to intern at Ports 1961.
Even after she finished her studies at the Parsons School of Design, her first move was to seek experience in the retail and business sector instead of design.
She returned to China in 2010 and started working for Louis Vuitton as a sales manager, where she spent three years.
There she grasped the essence of running a luxury fashion business.
"I came to understand that fashion is not all about design. It is also about the coordination between different departments," says Yu.
Later, to gain an even better understanding of the market, Yu moved on to Gucci to become a buyer for womens wear, in charge of selecting the right products for Gucci's stores in China.
There she had the opportunity to learn about market demand not only in China but also internationally.
Currently, she is trying to make the presence of her brand felt in fashion stores like Lane Crawford and Lafayette.
She is also thinking about setting up a platform like Urban Outfitters to work with different designers.