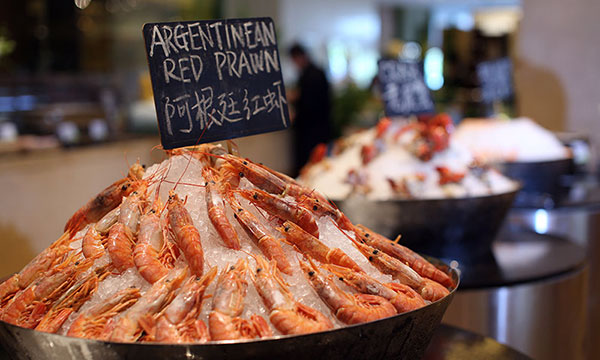 Argentinean red prawns are among the unlimited supply of seafood at the dinner buffet and brunch. [Photo provided to chinadaily.com.cn]
It was ten years ago today that the Westin Beijing Financial Street opened its doors, as the flagship hotel of the WESTIN brand in northern China. The hotel has served the business district on the west side of Beijing with its convenient location, modern facility, attentive service and rich food options.
To share the celebration with guests, the hotel is offering both a dinner buffet from Oct 18-22 and Saturday brunch on Oct 22nd at Senses for a special price of 288 yuan ($43) per person, which is the same price paid ten years ago. The special dinner and brunch is worth 688 yuan.
During the celebration, chefs from Germany, Italy, India and China will dish out the best buffets you've ever savored. There will be unlimited supply of seafood, fresh oysters and sashimi. You can also expect live cooking of roast lamb, baked lobster and oysters, as well as exotic cuisine including Brazil barbecue and Laksa. If that's not enough for you to enjoy, there are over 25 kinds of desserts and ice cream.
Just remember to book in advance and bring your appetite!
Senses
Ground floor, Westin Beijing Financial Street, 9B, Financial street, Xicheng district, Beijing (010- 6229 7810) 5.30pm-21.30pm for dinner and 11:30am-2.30pm for Saturday brunch.