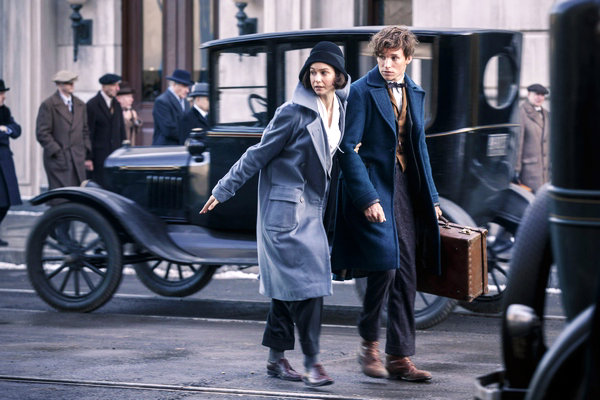 Fantastic Beasts and Where to Find Them, a spinoff and a prequel of the Harry Potter film series, will premiere on Nov 18 in China and the United States. [Photo provided to China Daily]
China's movie scene, which has seen a slowdown in the past months, could soon see a revival thanks to a flood of foreign blockbusters.
Starting this week, up to seven imported films will hit theaters in China-the world's second-largest film market-for the next month.
Every weekend from now through Nov 18 will have one or more foreign blockbusters.
The figure equals the number of foreign films screened between July and September, and this burst is being hailed by many Chinese diehard fans.
"After a long, boring summer and the lackluster Mid-Autumn and National Day holidays, we finally have some really big movies worth looking forward to," says a netizen on Douban.com, the country's largest review site.
On Friday, Tom Cruise's action thriller Jack Reacher: Never Go Back will compete with Jason Statham's Mechanic: Resurrection as well as a film from Japan, Dragon Ball Z: Resurrection 'F', the 19th animated feature inspired by the Dragon Ball series.
The three films are sequels, which mean the movies have some resonance with Chinese fans, besides the celebrity quotient.
Cruise, who toured Beijing and Shanghai last week to promote the second installment of the Jack Reacher series, is one of the most popular Hollywood megastars in China thanks to his franchise Mission: Impossible.
British actor Statham, known in China for Sylvester Stallone's The Expendables, starred in last year's Fast and Furious 7, which to date is the highest-grossing foreign film in China.
Next Friday will see Tom Hanks' Inferno, hitting screens in China.
The American mystery thriller's title has been translated as Danding Mima (Dante's Code) in Chinese, to show its connection with The Da Vinci Code.
The Da Vinci Code beat King Kong and Mission: Impossible III to top the foreign films' box-office chart in 2006.
Both The Da Vinci Code and Inferno are adapted from Dan Brown's namesake novels.
Separately, Ang Lee's long-awaited Billy Lynn's Long Halftime Walk, based on a 19-year-old American soldier's memory of the Iraq War, will open simultaneously in China and the United States on Nov 11.
A highlight of the two-time Oscar-winner's new film is cutting-edge photography: It was shot in 3-D with 4-K resolution (a horizontal resolution of around 4,000 pixels) at a speed of 120 frames per second, five times that of a regular movie.