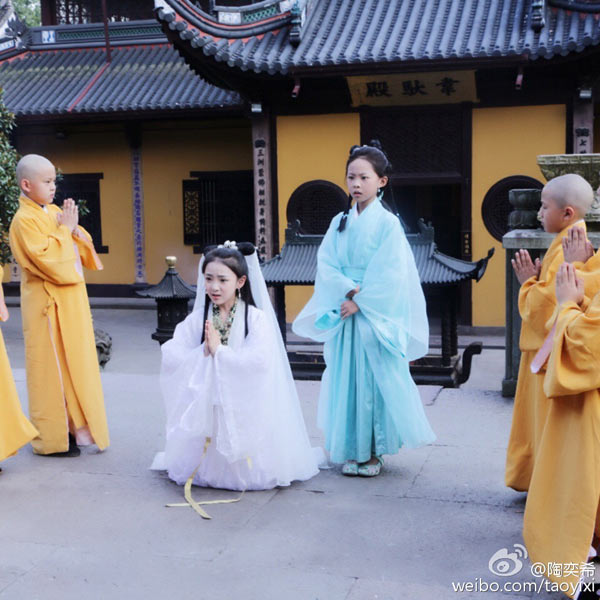 A scene of White Snake begging for Fahai, a Buddhist monk, to return her husband Xu Xian to her. [Photo/Weibo]
The Burden of Popularity
Given the tremendous popularity of Lady White Snake, this group of little artists has led their lives in the spotlight.
Ten-year-old Tao Yixi, the female lead in Lady White Snake, now boasts more than 50,000 followers in Sina Weibo. Each time she releases a message on her personal account, she receives many comments and likes.
Many parents express their concern for these children as they are too involved in entertainment and think early fame may exert some negative influences on their growth.
"It really surprises me that the average age of these children is 7. Indeed, they have done a good job in the performance. But I wonder if they can really understand the complex emotions between a snake and a person," commenter Chen Qiulin wrote in a passage online.
Also, the State Administration of Radio, Film and Television, China's top watchdog on media, released an announcement On Further Strengthening Management of Programs on Satellite TVs on February this year with a focus on young people.
According to the announcement, young celebrities are under tight control when attending various TV shows. And this kind of reality shows should be decreased gradually and cannot be broadcasted in the evening. Also, the contents of such programs should be upgraded towards promoting positive social energy instead of vulgarity.
But the distressing aspects of shows like Xiao Xigu on parenting are likely to continue given its success.
Will other shows follow suit and stir up another round of the child show craze? Questions like this are yet to be answered.
Related
'Paradise' blessed with immortal love stories