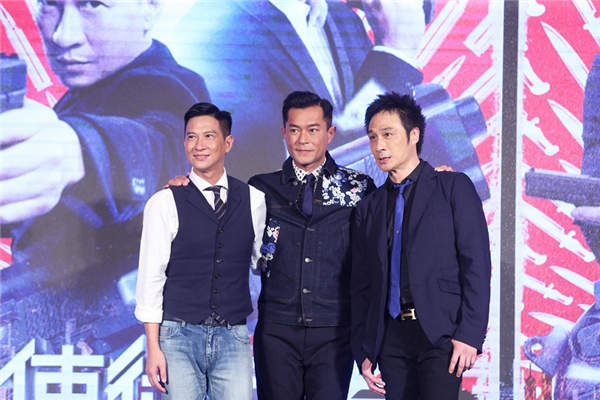 The movie version of the popular TV series Line Walker stars Hong Kong actors (from left to right) Nick Cheung, Louis Koo and Francis Ng. [Photo Provided to China Daily]
Once the most popular Hong Kong TV content provider for mainland viewers, Television Broadcasts has again adapted a hit series into a movie.
More familiar to viewers as TVB, the company has turned its highly rated 2014 series Line Walker into a movie of the same name. It will premiere on Aug 11.
Last year, two of TVB's most popular series, Triumph in the Skies - season 1 was screened in 2003 and season 2 in 2013 - and Return of the Cuckoo (2000) were both adapted into feature-length movies.
The large fan following of these series is why they have been turned into movies.
According to the producers, the 31-episode series Line Walker has so far been viewed almost 2.4 billion times on digital platforms - mainly mainland streaming sites - since it aired in August 2014 on TVB's Jade Satellite Channel.
The fast-paced story, the dramatic twists and the high-profile cast enticed a large number of mainland fans, winning it 8.1 of 10 on Douban.com, the largest Chinese review site for movies, TV, literature and music.
Besides TV actress Charmaine Sheh reprising her role, the movie has Hong Kong A-listers Louis Koo, Nick Cheung and Francis Ng.