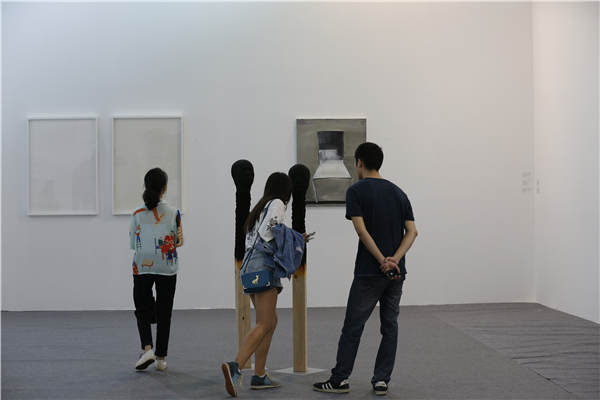 Visitors attend last year's Nanjing International Art Festival with the theme A Beautiful New World that discussed globalization. Photo provided to China Daily
The privately funded Nanjing International Art Festival is calling for works from artists across the globe for its third edition to be held from November to February, aiming to find and cultivate artists in and outside China.
It plans to showcase 800 pieces submitted by 400 artists from all over the world, covering paintings, sculpture, installations, videos and photos.
After the show, some of the works will begin a world tour in cities like Tokyo, Paris and New York.
Artists can visit www.njiaf.com to submit their works by Aug 1.
Started in 2014, the annual art festival in Nanjing, the capital of Jiangsu province - a one-hour trip by high-speed train from Shanghai - is funded by collector Yan Lugen and his Nanjing-based real estate company, the Lekyuen Group.
From this year, the art festival will turn biennial, says Yan.
Aiming to make it "China's Venice Biennial", Yan said in 2014 when the art festival was initiated he would invest 3 billion yuan in six years in the art festival.
Yan, who started his own collecting in the 1990s, has a large number of masters' works both from the East and the West.
In 2014 and 2015, the Nanjing International Art Festival had a section called Homage to Masters to display Yan's collection to the public.
The works included pieces by Picasso, Rodin, Monet, Renoir and Gaugin, which helped attract a lot of interest in the exhibition.
The theme of this year's art festival is Scarcity and Supply.
Lu Peng from Central Academy of Fine Arts and Letizia Ragaglia from Italy will jointly curate the show.
A committee of seven international art critics will help the curators select works for the show.
Speaking on the theme, Lu says the art festival tries to present artists' positions, attitudes and opinions on today's world. The theme is also about focusing on the problems facing the globe and to seek solutions from an artist's perspective.
In 2015, the art festival's theme was A Beautiful New World to discuss globalization. It received works from 8,000 artists from about 40 nations and regions.
Speaking of what he hopes to achieve with the event, Yan says: "Through the Nanjing International Art Festival, I hope to build an influential brand to fuel the development of China's art. I know it won't be easy and I have a long road to go."