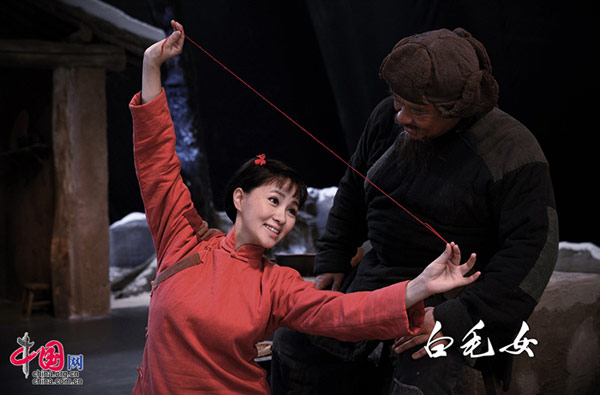 3D-version The White-haired Girl showed up at the NCPA International Opera Film Exhibition [Photo/chncpa.org]
The National Center for the Performing Arts (NCPA) International Opera Film Exhibition opened in Beijing on July 15. It selected 13 excellent opera films from the most renowned six theatres in the world to be released in eight first-tier Chinese cities next month. It is not only the first international opera film exhibition held in China, but also the first time China's opera films have been displayed on a global platform.
The White-haired Girl in 3D, created by China's Ministry of Culture, was displayed as the opening film. It is the beginning of China's national opera production, which was adapted and produced into a 3D version in 2015 to mark the 70th anniversary of the first Yan'an performance. The film's music is familiar to audiences, while its application of high technology creates a modern atmosphere.
As the joint hosts, the Art Department of China's Ministry of Culture and the NCPA spent a year preparing for the international exhibition. It invited the China Opera and Dance Theatre, the Metropolitan Opera, the Royal Opera House, the Paris Royal Opera and the Mariinsky Theatre as co-sponsors, showing 13 films from home and abroad and spreading Chinese opera films overseas, which are all classical and highly-qualified.
Among them, five were produced and commissioned by China. In addition to The White-haired Girl in 3D, Rickshaw Boy, Aida, Nabucco and Samson et Dalila will soon be showed. Rickshaw Boy, adapted from Chinese well-known modern writer Lao She's literary work of the same name and composed by Guo Wenjing, appealed to considerable international attention and earned an impressive four stars in the Financial Times. In 2015, this opera gave tour performances in five cities in Italy, causing a fever in Chinese culture. It has become the first Chinese opera film broadcast on Italian national TV.