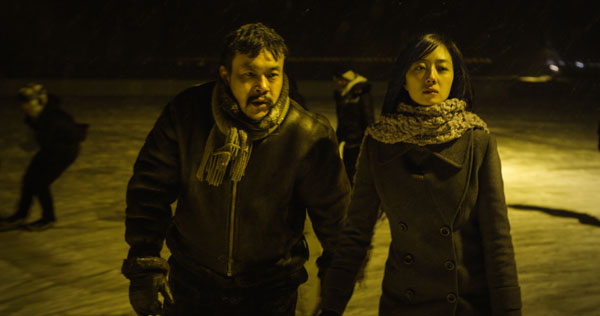 Black Coal, Thin Ice, starring Liao Fan (left) and Gwei Lun-mei, ranks top among the winners of this year's Film Critics' Choice Awards. [Photo provided to China Daily]
China's annual Film Critics' Choice Awards have been given to five films instead of 10, Han Bingbin reports.
China's status as the world's second-largest film market and Chinese cinema's increasing diversity aren't satisfying local critics, who, while applauding their favorite films of last year, say the quality of films made in China needs to improve.
Black Coal, Thin Ice, a crime thriller that won the best picture award at the 64th Berlin International Film Festival in 2014, also took first place at the Film Critics' Choice Awards hosted by the China Film Association.
The annual awards are judged by a panel of 80 independent and media-based film critics. Now in its eighth year, the awards this year were downsized from a previous top 10 list to only five best films.
Other than the thriller, Peter Chan's Dearest, Lou Ye's Blind Massage, Zhang Yimou's Coming Home, Tsui Hark's The Taking of Tiger Mountain (juxtaposed with Coming Home) and Ann Hui's The Golden Era were declared this year's winners.
When announcing the awards on May 12, the China Film Association also launched its annual reports on both Chinese film art and film industry. The findings particularly highlighted the increasing diversity of Chinese movies and, as expected, China's new role as the world's second-largest film market with total box-office revenues of 29.6 billion yuan ($4.77 billion) in 2014.
Some 16 billion yuan was made by 259 Chinese productions, eight of which earned more than 500 million yuan with the highest, Breakup Buddies, grossing over 1.1 billion yuan. About half of that exhilarating figure, however, is contributed by 70 imported movies, mostly from Hollywood.
It is still hard to say whether local productions can achieve more than 50 percent share of the Chinese market this year, says the association's secretary general Rao Shuguang, with the latest Fast and Furious installment already posing a great challenge by grossing more than 2 billion yuan in China.