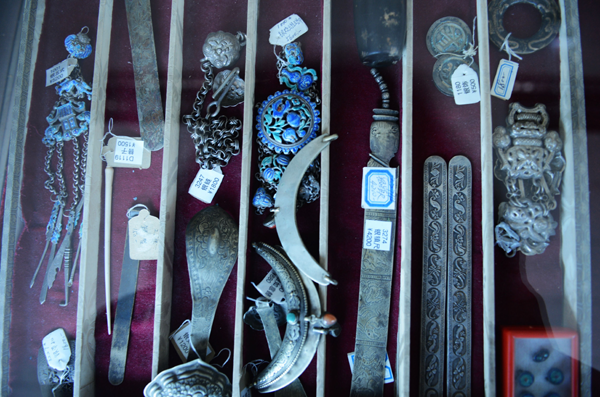 Antique market are where traders and collectors put their psychological strength and their antique knowledge to test the annual big antique fair in Zhengzhou, capital of Henan province. [Photo by Xiang Mingchao/China Daily]
From the outside, the Holiday Inn, a 14-storey hotel located beside Jinshui Avenue in central China's Zhengzhou City, is not unlike any other hotel in China or the rest of the world.
Yet every April, for just a few days, the unassuming hotel transforms into a giant antique store.
A random visitor would be shocked to discover the door of every single room swung wide open. A peak inside reveals piles of antiques, some real, some fake, strewn across the beds as if the hotel were an open-air bazaar.
"Come in and take a look," beckon the sellers, who are often not immediately visible from the door. However, most of the time, no invitation is needed. The majority of people who visit seem know exactly what they want.
"This is the largest antique fair you are likely to find in China throughout the year," says Meng Jianjun who, as a self-professed "young veteran antique dealer," arrived at the hotel on April 6th. "Holiday Inn is not the only place-there are three other hotels, all within five minutes' walk from one another, that serve as the fair's primary locale."
"I booked the room a month in advance. The rent for rooms has doubled. But if you hesitate, the room will be gone in a minute," says the 34-year-old, who traveled by overnight train to reach the fair.