Storyteller of Pingtan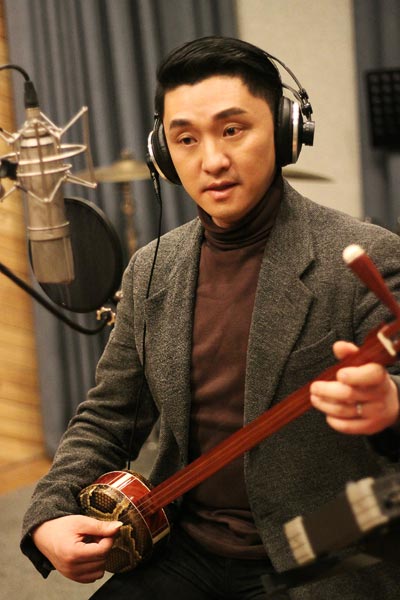 Gao Bowen devotes himself to injecting new life into the age-old performing art of Pingtan through his experimental efforts like working with bassists, guitarists and DJs. [Photo provided to China Daily]
At 17, Gao Bowen started to learn Pingtan, an ancient Chinese art form of singing and storytelling originated from Suzhou, Jiangsu province, with a history of more than 400 years. Today, at 45, he is the vice-president of Shanghai Pingtan Troupe that trains young students in the narrative musical tradition.
But Gao isn't the image of a typical inheritor of traditional Chinese arts-usually old-fashioned or stern-looking.
With a slick hair style and sharp business suits, he has been promoting Pingtan with a modern touch for the past decade.
He performed Pingtan in Lust, Caution (2007), an erotic thriller set in 1942 Shanghai, by Oscar-winner director Ang Lee. Gao's subtle singing and frequent changing rhythms reflected the characters' emotions and anxiety on screen very well, critics said.
The movie revolves around Wang Jiazhi, a Chinese student, who plots to assassinate a high-ranking special agent of the government.
Earlier this month, dressed in a long robe, Gao played the sanxian, a three-stringed traditional Chinese instrument, and jammed with DJs, bassists and guitarists at the electronic-rock show China Music in Beijing. The audience, mostly young people, were thrilled by the fusion of contemporary tunes and traditional music.
On May 31 and June 3, Gao and his Shanghai Pingtan Troupe will present two shows in Shanghai and Beijing to pay homage to Chen Yun (1905-95), one of China's most influential leaders and a fan of Pingtan. In 1962, Chen initiated the Suzhou Pingtan School, the only educational institution in the country that still teaches the art form.
The shows will have classical and contemporary works, such as Jade Dragonfly and Pearl Tower.
"Elderly people enjoy the tradition of sitting for days or even weeks to hear an entire story adapted from a legend or a historical event. However, young audiences like shorter stories and creative plots," Gao tells China Daily. "I try to appeal to young audiences with varied tastes while serving the older generations with classic tales."
Pingtan, unlike Peking Opera, which usually sees high-pitched singing and dazzling martial arts, has just two performers, one male and the other female, who play the sanxian and pipa, another stringed Chinese instrument, while singing ballads and telling stories in the Suzhou dialect at local teahouses or small theaters.
Besides old classics, new Pingtan works include modern takes on old stories and adaptations based on hot social events or topics.
"The popularity of Pingtan lies in its content, which is based on daily life. A Pingtan artist makes changes to lyrics and improvises music according to the audience response. It requires solid performance skills and the ability to think quickly," says Yu Hongxian, 76, a famous Pingtan artist.
She is known for her interpretation of Butterfly Loves Flower, a performance adapted from the poem Reply to Li Shuyi by Chairman Mao Ze-dong.
"It takes years for Pingtan artists to polish their skills and give mature performances onstage," Yu adds.
According to Gao, the traditional art form has a loyal following in the southern regions of the Yangtze River: Shanghai, Suzhou, Hangzhou and Nanjing. If you ride a boat along the river alleys of Suzhou, you will hear the sound of Pingtan from teahouses on the riverbank.
Born in Shanghai, where Pingtan was very popular, Gao grew fond of the art form by listening to radio programs. He attended Shanghai Traditional Opera School to learn Pingtan as a teenager, and ever since then he has been determined to find new ways to tell the world about the tradition.
In 2008, he mixed Pingtan with rock music and performed at Shanghai's popular commercial areas, which helped bring people closer to the old art form. In 2013, he performed with the Shanghai Philharmonic Orchestra.
Despite his efforts, he has faced some criticism from elderly viewers for experimenting with the presentation.
"If just one person tells me that he or she is interested in Pingtan because of such experiments, I think I've made a successful attempt," he says.
Gao also points out that young students are easily distracted by today's various forms of entertainment. To train them, he starts with teaching the art of making and drinking tea, because "it needs patience to enjoy a cup of tea, which is similar to enjoying Pingtan".
Pingtan, he says, is a symbol of the slow and tranquil way of life.
"For people who live in a fast-paced society, it's a luxury to spend a few hours sitting in a teahouse to sample the old art," Gao says.
But it makes you slow down and relax, he adds. "That is what is needed."