He Jiong's resignation sparks outpouring on Weibo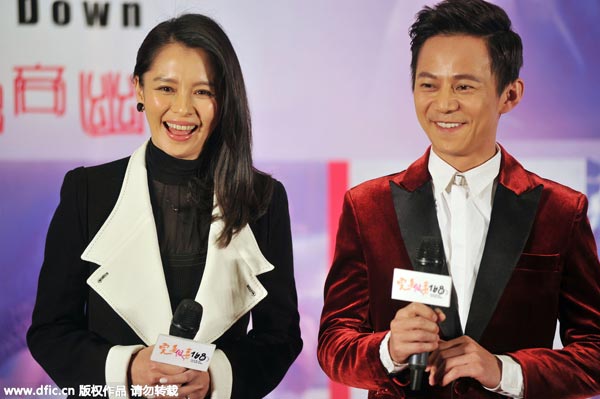 Taiwanese actress Vivian Hsu, left, and He Jiong smile at a press conference for their new movie Lock Me Up, Tie Him Down in Beijing, Feb 28, 2014. [Photo/IC]
Famous TV host and teacher at Beijing Foreign Studies University (BFSU) He Jiong's resignation from BFSU after allegations of freeloading was the 7th hottest topic on Sina Weibo's homepage as of writing.
The statement about He's resignation on BFSU's Sina Weibo was forwarded over 72,000 times with more than 12,700 comments, with the majority siding with He. Qiao Mu, one of He's BFSU colleagues, accused him of abusing public resources, saying he received a salary from the university despite years of being busy in entertainment industry without working for the university, which led to the resignation. Many felt that his resignation was a loss for BFSU, and showed support for him.
"We know what kind of person teacher He is, and we trust what we see," said Sina Weibo user dandanyuan. "People like Qiao Mu are despicable."
"I have been watching TV shows hosted by He for many years, and now my child watches them and adores him a lot," said user 5611010992. "Justice is in our hearts and we support you forever."
Despite overwhelming support for the beloved star, some people remained skeptical.
"Freeloading is a political issue. Since he was not after the salary, why didn't he resign from the school earlier, only doing so after the allegation?" said one user.
He's confirmation of his resignation posted on his Sina Weibo at 5.33pm Sunday following BFSU's statement was forwarded 67, 468 times and received 546,832 likes by 9.30am on Monday.
Related:
TV Host resigns from university following freeloading allegations