Eating out up on the roof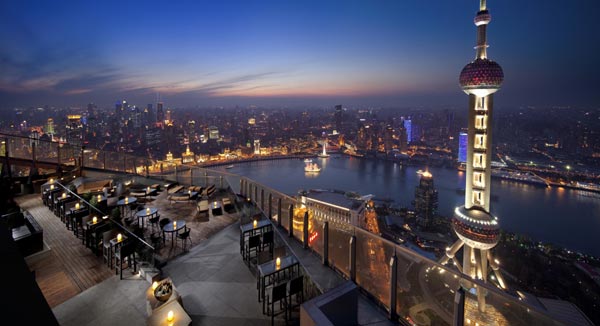 The 25th-floor bar Flair atop the Ritz-Carlton, Pudong in Shanghai offers a grand river view and Malaysian-style handmade noodles. [Photo provided to China Daily]
The weekend before last was a stinker in Beijing. Just as warm weather seemed here to stay, and the scent of full-bloom roses was massaging out senses, a freak cool front-usually welcome in the capital-stopped the al fresco set in its tracks. At Migas, a popular Latin restaurant and bar with a new rooftop space, when rain came on the heels of a chilling breeze, a carefully planned wedding party gathered up its formal skirts-and chef Aitor Olabegoya's massive paella pan-and fled indoors.
But that was a mere blip in the season. May is the primo month for eating and drinking outdoors in much of China. We'll keep doing it as summer progresses, of course, but it's most enjoyable now. Stifling heat will soon make us think twice about joining the huddled masses at sidewalk cafes, but now the promise of sun and mild temperatures, the hope of fresh air, and circling waiters with fresh summer cocktails all combine to make the winter doldrums a distant memory.
German-style beer gardens from Dalian to Qingdao to Hong Kong have freshened up, laced up their lederhosen and wheeled out the weissbier, the light wheat beer that's made to quench summer thirsts-perfect with a slice of lemon.