Eating out up on the roof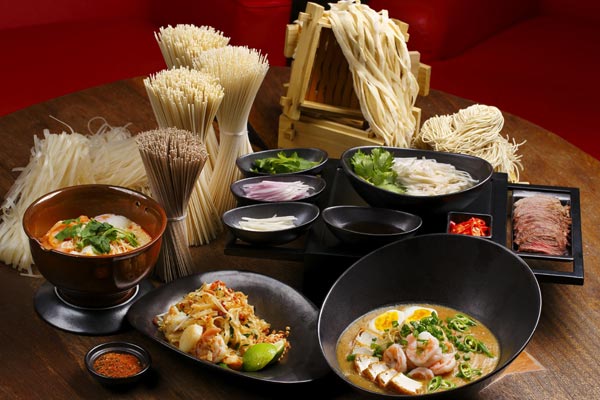 The 25th-floor bar Flair atop the Ritz-Carlton, Pudong in Shanghai offers a grand river view and Malaysian-style handmade noodles. [Photo provided to China Daily]
It's all part of the merrymaking that warm weather brings out in socially minded diners.
Weekend brunches are king right now, and social media is abuzz with queries and tips on the latest favorites. At Migas' new brunch, for example, the fun includes a manager circulating with a bota, the wineskin traditionally made for travel and picnics.
This is guaranteed to bring every party to life.
To serve yourself, you simply take off the top, hold the bota slightly above eye level, tilt your head back as you gently squeeze the bag and a thin stream of wine will come pouring into your mouth.
This takes a bit of practice, which is why restaurants like Migas tend to do this for you. Even so, you need to sit still for the fun or you might go home with a fragrant, red shirtfront. (On travel documentaries, servers at Spanish bars can be seen squirting sangria across the room, but at Migas, like at most restaurants, the bota will be brought close enough to avoid disaster.)
While brunches, sidewalk cafes and rooftop bars are magnets for summer fun, many eateries go an extra mile to make the most of the outdoors.