Eating out up on the roof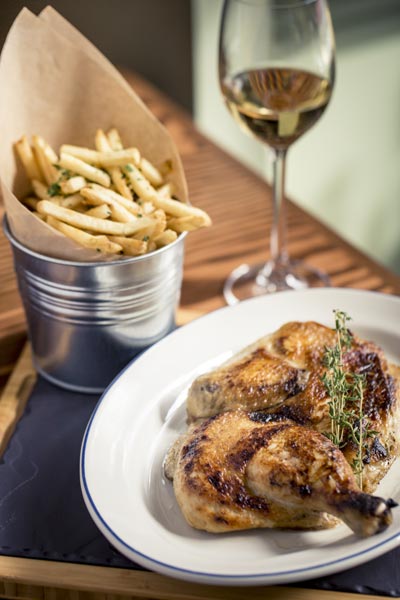 Grilled chicken is featured on the deck at Hong Kong's new Scarlett restaurant. [Photo provided to China Daily]
"A Saturday like this is so glorious after so many gray Beijing days," says Renata Kromer, an Austrian expat enjoying a weekend patio lunch in Beijing's Sanlitun district. A few feet away, a chamber music group brought Mozart to life with flutes, clarinets and bassoons. "It's positively European. I love it!"
Such revelry is not reserved for foreigners. The sprawling patio at Paulaner, the Kempinski Beijing's lively brewpub, was a sea of Chinese faces on the weekend, all cheerfully quaffing foaming mugs of maibock and other seasonal beers.
At nearby Nali Patio, a relaxed crowd was raising glasses of champagne on the new rooftop terrace at the wine bar Enoterra. In Hong Kong, diners at Aqua in the chic Tsim Sha Tsui district were sipping summer cocktails by award-winning mixologist David Rios. Featured this month: the Eastern Martini, a drink that pays homage to the enjoyment of sherry by expatriates in Hong Kong in bygone years. Sherry has been recently rediscovered in cocktails, and Rios combines its richness with the spice of gin and fruit of the Orient: Tanqueray No 10, manzanilla sherry, litchi liqueur and a lime twist, served with olive and almonds.