Learning the art of making bobo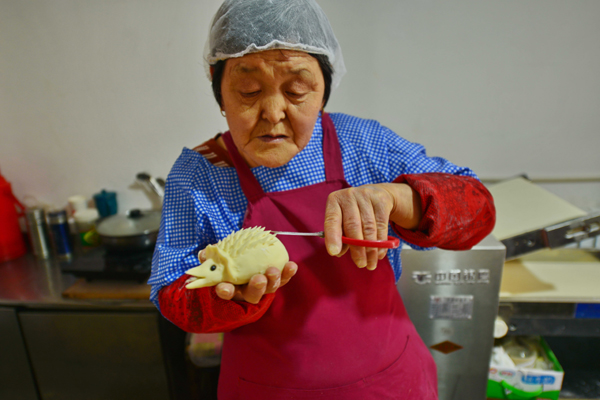 68-year-old Liu Fanrong makes a hedgehog. Ju Chuanjianig / For China Daily
I was still a little boy when I left my hometown in Wendeng, a city on the Jiaodong peninsula in Shandong province. Although I have eaten many steamed buns and breads during the past few decades, I can't forget my memories of eating bobo, a traditional food for festivals in Wendeng.
Bobo are wheat buns that are about four times or even six times larger than usual steamed buns. Skilled housewives can make bobo in shape of different animals and figures, and ornament them with red jujubes and colorful flowers, which look like pieces of exquisite handicrafts.
In Wendeng, people like to steam bobo for Spring Festival and other celebrations like weddings and birthdays.
With the pace of urbanization in China continuing to accelerate, the number of people who can make the bobo gradually reduced. Now, it has become a rare food for city people.
During this year's Tomb-Sweeping Day holiday, I went to my hometown to interview several inheritors of the technique of making bobo in my hometown, bring back memories of my childhood.
I went to the bobo shop of Lin Rongtao. He and his mother, Liu Fanrong, were busy with making a bobo for customers to celebrate an older member's birthday in the family. The peach-shaped bobo, on the top of which the Chinese characters "fu" (happiness) and "shou" (longevity), were inscribed was surrounded by a dozen small other bobo.
"This craft has been handed down from generation to generation," the 68-year-old Liu Fanrong told me.