Korea in a cooking pot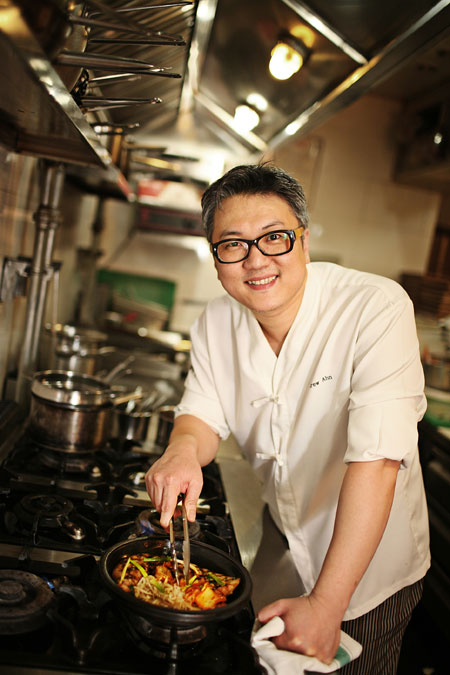 [Photo/China Daily]
Most fans of Korean food outside the country know bibimbab and bulgogi - and maybe fried chicken. Xing Yi discovers there is much more to it over lunch with chef Andrew Ahn.
Just as Korean TV serials are hot among Chinese, so is Korean cuisine becoming a popular choice in China when people want to eat something different but not that bizarre.
Last year, after South Korean actress Jun Ji-hyun famously said: "It's snowing outside - we should have fried chicken and beer!" in the TV serial My Love From the Star, there was a craze for Korean fried chicken. Even KFC launched a special combo of that style of fried chicken with soda.
But you will find that's not real Korean fried chicken after tasting the authentic Korean cuisine of Andrew Ahn, whose runs the restaurant One Pot, formerly called Ssam in Sanlitun SOHO.
When South Korean President Park Geun-hye visited China in June 2013, Ahn cooked for her and the entourage for the state visit. "The first day I prepared cool soup with soybean sprouts and bibimbab, and the second day I cooked Korean barbecue, marinated whelk and cool carrot soup," Ahn told Chinese media at the time.
The Korean president had asked for food that wasn't extremely spicy, Ahn says, which might surprise outsiders who expect all Korean food to be spicy-hot. The ingredients and flavors vary widely, and some of the differences are regional, although Ahn says the country is small and so the cuisine is basically the same all over.
But the spiciest kimchi, for example, comes from the south - a tradition has ancient roots thanks to geography and climate in the days before refrigeration, Ahn says. Silk Road traders passing through Pyongyang likely found that kimchi, the pickled cabbage they were packing along the way, was milder in Pyongyang than in more southern Gyeongju. Cabbage fermented too quickly in the south, Ahn says, and chilies and other spices slow the process down and also help preserve foods in warmer areas.