Going away? There's an app that offers tips on stay, food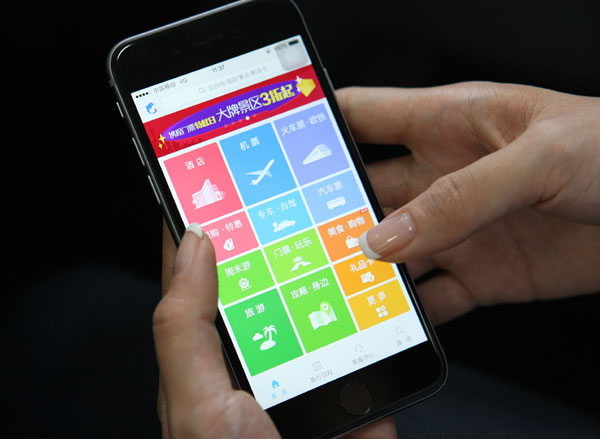 Phone apps give various information to tourists. [Photo by Wang Zhuangfei/China Daily]
On a busy street in Seoul, Li Huan tapped a few instructions into an application on her cellphone and quickly figured out the best way to get to a nearby restaurant that had been recommended by other tourists.
"I can get all the information I need from different travel apps. I don't have to bring several maps anymore and I can even use translation apps to communicate with the locals," says Li, 27, an office worker from Liuzhou, the Guangxi Zhuang autonomous region. She is enjoying her trip to South Korea.
Like many individual Chinese travelers, Li uses apps to book air tickets and hotels before her trips and to get travel tips and public transportation information during her journeys.
In recent years, the popularity of such apps in China has dramatically changed the way people travel and has encouraged more tourists to take independent tours.
"It's very convenient because I can download travel tips from the apps and read them later on my cellphone when I have time. Several years ago it was difficult to find travel information even about domestic destinations," says Liu Xiang, 26, who works for a foreign company in Shenzhen.
Thanks to ubiquitous Wi-Fi and local phone cards, Liu has easy access to the Internet when she travels abroad. She says travel tips by other people help her arrange her itinerary and experience places like a local.
"When I was a child I traveled with tour agencies. Sometimes I couldn't eat the things I like or visit the place I wanted to go. Nowadays, all information is available. Independent travelers have the ultimate freedom to choose whatever they like, just like online shopping," says Li Qing, the brand director of Breadtrip.com, a social media network for travel tips. The app gained 30 million users in three years. More than 70 percent are between 25 and 40.