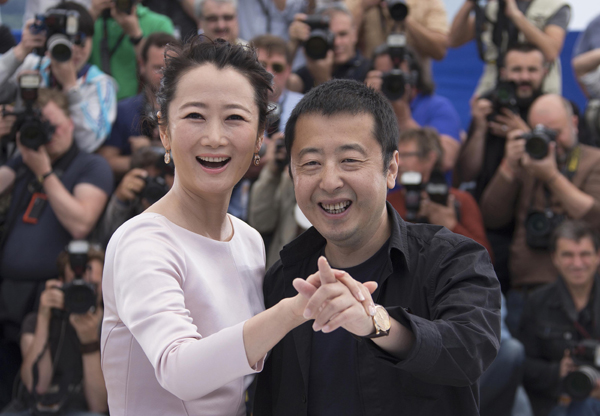 Director Jia Zhangke (right) and cast member Zhao Tao pose during a photocall for the film "Mountains May Depart" (Shan he gu ren) in competition at the 68th Cannes Film Festival in Cannes, southern France, May 20, 2015. [Photo/Agencies]
Chinese director Jia Zhangke' s latest film Shan He Gu Ren (Mountains May Depart), was screened on May 20 in Cannes to compete for Palme d'Or at the ongoing 68th Festival de Cannes (Cannes Film Festival).
China, 1999. Childhood friends Liangzi and Zhang are both in love with Tao, the town beauty. Tao eventually decides to marry the wealthier Zhang. They soon have a son he names Duole. From China to Australia, the lives, loves, hopes and disillusions of a family over two generations in a society changing at breakneck speed.