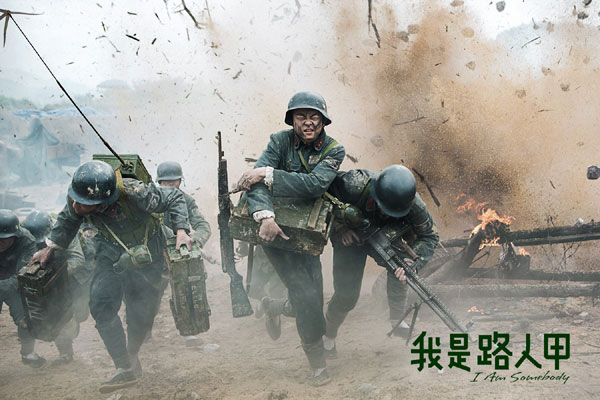 I Am Somebody, directed by Derek Yee, is about the struggle of grassroots performers in Zhejiang province's Hengdian, the country's largest film studio. [Photo provided to China Daily]
At a time when most movie producers seem to trust only celebrities to pull in box-office bucks, Hong Kong director Derek Yee has made a big-budget movie with, and about, a relatively unknown cast.
I Am Somebody is the story of "extras", or grassroots performers who struggle to find a foothold in the entertainment industry.
The 58-year-old veteran director-who's behind several hits, such as Triple Tap and Protege-wrote on his Sina Weibo account, the Chinese equivalent of Twitter, that inspiration for the movie came to him in August 2012. He was in Hengdian in East China's Zhejiang province, where the country's largest film shooting lot is located.
"It's a weird town ... My instinct told me it should be recorded," he says.
He says he was also fascinated by the view of the movie town, where skyscrapers and ancient architecture coexist. Some Western media describe it as "China's Hollywood".
Every day, Hengdian witnesses hundreds of extras-most of whom are good-looking, young and diligent, and dream of rising to stardom-playing war corpses, maids and other background roles. They are mostly without screen names and lines in movies, and earn an average daily wage of around 30 yuan ($5) to hang out on set for hours.
Yee decided to make a movie about these people, who are labeled "hengpiao", or Hengdian drifters, referring to people who take long journeys from their hometowns to seek opportunity.
According the labor union of Hengdian Film Studio, more than 2,000 background actors and actresses have been listed, though industry insiders say the actual number is much bigger.