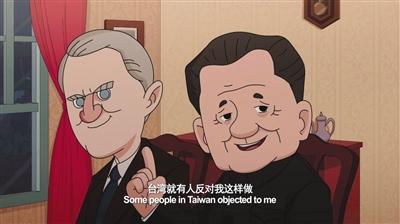 Animated images of late Chinese leader Deng Xiaoping are shown in the upcoming documentary Mr. Deng goes to Washington. [Photo/Agencies]
The historical documentary Mr. Deng goes to Washington, which premiered in the capital on May 12, not only reveals the details of an attempted assassination of Deng, but is also the first time animated images of China's leaders have appeared on the silver screen.
The film tells the story of Deng's nine-day visit to the US in 1979, only a month after China established diplomatic relations with the US for the first time after the founding of the People's Republic of China in 1949.
Telling stories of Chinese leaders through animation is very rare in China, but Mr. Deng goes to Washington interweaves historical footages, interviews and animated images of Deng.
Lu Muzi, the film's producer, said the film includes 12 animated sequences of Deng, drawn in French, American and Japanese styles, as well as China's traditional shadow puppetry style.
The animated images of the late leader were approved by his family members.
"We specially asked Deng Lin, the eldest daughter of Deng Xiaoping and also a renowned artist, to give the final approval. Shortly after we sent her the tape, she phoned us and said we were good to go," said Lu.
24-year-old Zhu Yuchen, a graduate student in animation at the Beijing Film Academy who has also drawn cartoons for leaders including former premier Wen Jiabao, is the mastermind behind the animated images of Deng.
Among the three versions of images he drew, director Fu Hongxng chose to use the version which was moderately realist.
"Deng's animated images are not static in the film. When he's at meetings, the images are more serious, and when he's at a gala, he's portrayed in a more lively way," said Zhu.