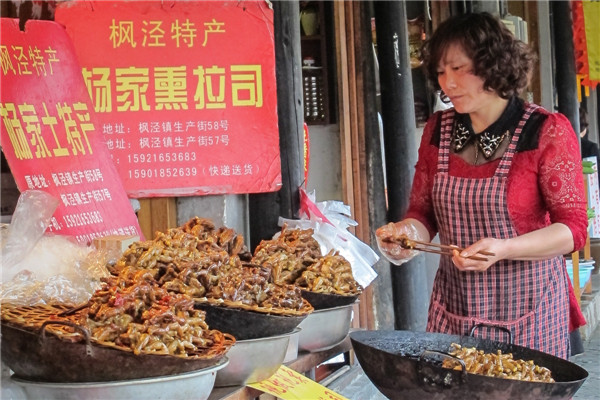 Smoked toads challenge people's taste. [Photo by Lin Jinghua/China Daily]
Fengjing prides itself on a long history and a taste for danger. Lin Jinghua reports.  
"Smoked La Si". Signs with these three Chinese characters were the first thing I saw upon arriving at Fengjing, an ancient town with a 1,500 year history in southwest of Shanghai.
I approached one vendor, there were small creatures, gold in color placed on a bamboo plate. At first I thought they were frogs. "No, they are la si," the vendor said. That didn't help me. "La si," repeated the woman. "They are toads," she finally gave the answer in Mandarin. What! I suddenly felt disgusted.
La Si is Shanghai dialect for toad. La refers to the ugly warty top of the toad body and si is water, meaning ugly wart in water. But the local people use different Chinese characters with the same pronunciation.
"It's very tasty, try one," the woman picked up one of the creatures but I stepped away. "No, thanks," I said. I almost ran away from the vendor. But I found I could not avoid the creatures while walking down Shengchan Road, a stone-slab path along the small river that runs through the old town. It is one of the main shopping areas in the old town, selling all kinds of local specialties. Several vendors did the same business and small restaurants promoted their specialties, with smoked la si on the top of the sign.
Toad is considered one of five poisonous creatures. The other four are scorpion, spider, centipede and snake. For toads, the most dangerous part to eat is behind its ears, which has white fluid. But it is an important ingredient in Traditional Chinese Medicine after drying. Li Shizhen, a famous doctor in the Ming Dynasty (1368-1644) described in his Compendium of Medica, using toads to treat infantile malnutrition, ulcers and salya.