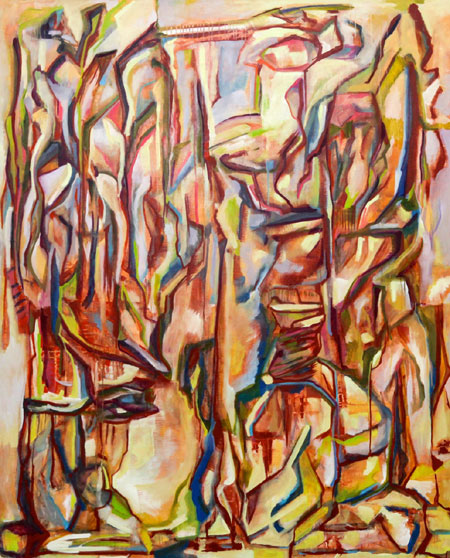 [Photo provided to chinadaily.com.cn]
Patty Hudak in China, a retrospective of her work produced in the past seven years is now on exhibition at Being 3 Gallery, in Beijing, from her early graphite drawings to the most recent oil paintings themed on the five elements according to Chinese culture — metal, wood, water, fire and earth.
For the artist, soaking up Beijing culture for seven years has led to a shift in not only her art, but also in how she channels it.
"I'm not painting from the head any more but from the mind," said the American, who has been immersed in the capital's art scene-exhibiting, curating and lecturing — since she arrived with her family in 2008.
Before coming to Beijing, she had been focused on pencil drawings without color, describing the style as geometric, carefully measured and balanced, "a very concrete mathematical, theoretical way of producing art".
Yet, that began to change as she became familiar with Chinese ink painting, which she began to incorporate into her work.
IF YOU GO
Being 3 Gallery, Beijing Plastic Facotry No 3 Culture Center, 129 Cuigezhuang, Nangao, Chaoyang district.
010-5978-9875