Spanish chef seeks the essentials in food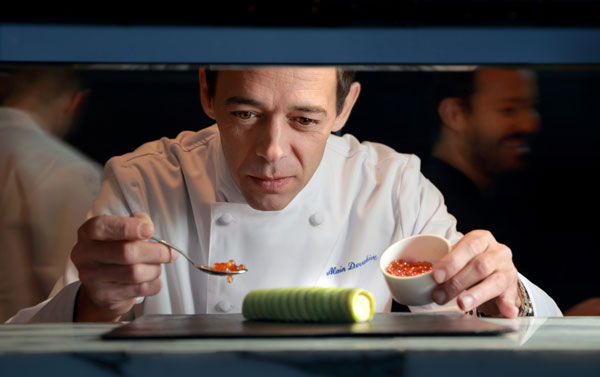 Devahive directs his molecular magic at caviar, mushrooms and an avocado roll.[Photo provided to China Daily]
Alain Devahive Tolosa is a master of molecular cuisine. The Catalan chef deconstructs and recreates ingredients like he did during his 15 years at El Bulli, which was often touted as the best restaurant in the world in its heyday. Devahive is in Tianjin through Sunday, his last stop in China after taking his Asia road show for Ritz-Carlton hotels to Shanghai and Beijing earlier this month. China Daily caught up with him in the capital last week.
Usually when we talk to guest chefs visiting from abroad, they tell us about the big trunk of special ingredients they've hauled from home to make their authentic foods. I hear you brought ... Nothing?
(Laughs.) That's true. We work with what's in the market here. I am going to many cities, so it's just more practical, too.
But isn't doing what you do difficult in China?
You could say it is complicated anywhere. Here the challenge is really process. This way of looking at food, preparing food is just not known in Chinese kitchens. So the equipment I use to deconstruct meats and vegetables or to control food temperatures very precisely is not at hand. So we find other ways.
Have you had a chance to see what kinds of things Chinese chefs might be doing with molecular cuisine?
I know it's happening some and people offer to take me to these places, but that's not what interests me. When I visit a place, I want to find the original cuisine, the essence of what's there. That is my goal wherever I go. If you make a great seafood broth or mashed potato, that's what I am happy to find.