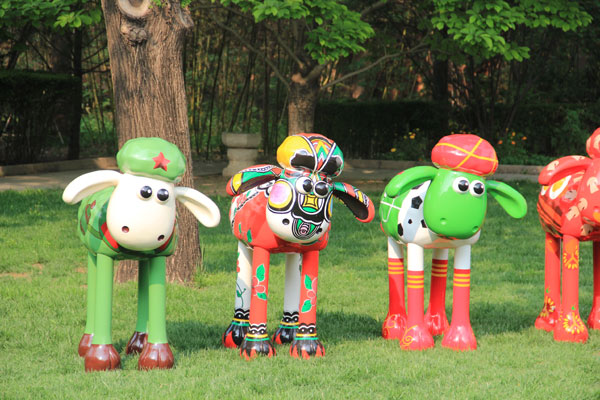 Shaun the Sheep sculptures, mostly designed by Chinese celebrities, will tour the country. [Photo/China Daily]
Shaun the Sheep, the popular animated character from Britain, traveled to China recently to take part in the launch of a project that will benefit disadvantaged children in the country.
The project, launched in Beijing last month, is part of a series of programs for the 2015 UK-China Year of Cultural Exchange.
Artists and celebrities from other fields including sports and fashion will be invited to decorate the up to 50 giant sculptures depicting Shaun in different guises.
The sculptures will be taken on a five-city exhibition tour across China from July to October, and then 10 of the statues will be flown to London for further display in October.
After their cultural mission is complete, the sculptures will be auctioned to raise funds for two charities that aid children with autism and those from migrant families in and around Beijing.
"One Shaun will be donated to us," says Helen Boyle, founder of Migrant Children's Foundation, one of the organizations.
"We'll take the sculpture to a migrant school in Beijing to encourage them to use their imagination and creativity to paint the sheep."
A competition among children ages 9 and 10 will be held to select the best idea, and the painted Shaun sculptures will be taken back to the sponsors for auction, Boyle says.