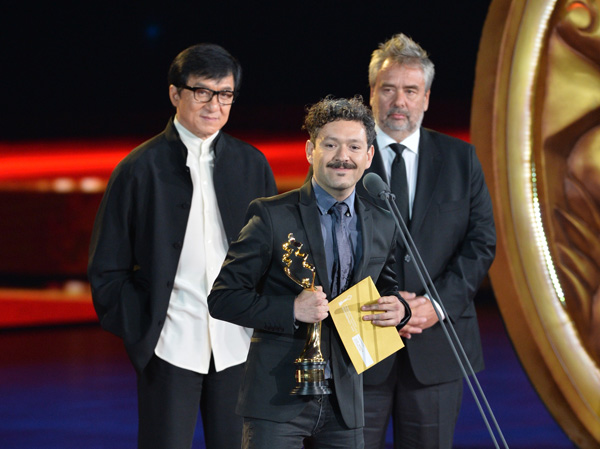 Hong Kong star Jackie Chan (left) and French veteran filmmaker Luc Besson with Bernardo Arellano (center), director of Mexican movie The Beginning of Time, which won the Tiantan Award at the Beijing International Film Festival. WANG QINGQIN/ XINHUA
The Beginning of Time wins event's best picture award
The curtain fell on the fifth Beijing International Film Festival on Thursday night after Mexican movie The Beginning of Time won the biggest honor.
The feature-length drama, depicting the troubled life of a 90-year-old couple, was awarded the best picture Tiantan (Temple of Heaven) Award, beating 14 other nominations selected from 930 candidates from more than 100 countries and regions.
French director Jean Jacques Annaud won the best director award for the Sino-French blockbuster Wolf Totem.
The eight-day festival, which is billed as the top Asian movie event, also turned into a carnival for movie fans.
Numerous film enthusiasts described the festival on major online forums as a "real movie pilgrimage".
Beijing moviegoer Wang Xu, 29, hailed the past week as "the most exciting period ever". He watched many films making their debut in China.
According to the China Film Archive, which handled invitations this year, the festival attracted 120,000 moviegoers to about 900 screenings at 23 cinemas and eight universities in Beijing.
Sha Dan, the archive curator, said: "More than 95 percent of the films were first-time releases on the mainland. Hollywood blockbusters and world-famous classics sold out pretty quickly in the first few hours."
Sha said tickets for the 1984 epic crime drama Once Upon a Time in America sold out in just 45 seconds after the festival's authorized site, Gewara.com, started presales on April 9.
Tickets for recent Oscar winners Birdman and The Grand Budapest Hotel, which made their Chinese debuts during the festival, mostly sold out in two hours on the first day.
According to the organizers, the rapidly expanding movie market, a major financial aspect of the festival, saw record trade value, with 36 contracts signed for movie projects worth 13.8 billion yuan ($2.23 billion), a year-on-year increase of 32 percent.
At the previous four festivals, 80 movie projects were reported to have been agreed upon, with a trade value of 27.3 billion yuan.