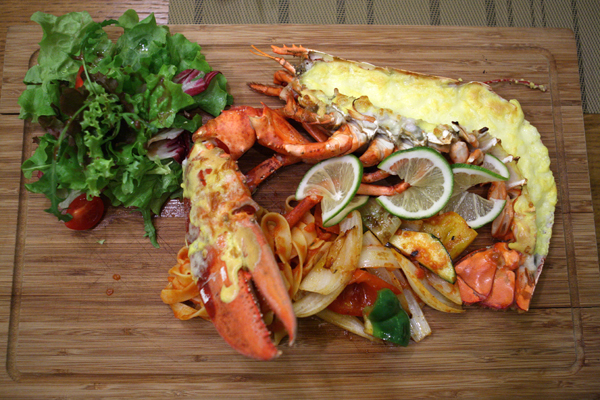 Creamed lobster. Wang Zhuangfei / China Daily
Located in Beijing's embassy area near Liangmaqiao, a newly opened restaurant may not catch our eye but for a friend's recommendation. Its name, Blue Marlin, is fresh on Beijing's dinning map; yet, the restaurant chain has already gained ground in a host of China's smaller cities. Now it's landed in Beijing.
There are few successful Chinese brands of Western chain restaurants and bars, especially ones founded by a Chinese boss and chef. Blue Marlin Bar & Restaurant is one of the exceptions.
Founded in 1999 with the first branch in Suzhou, Jiangsu province, the restaurant chain has established 13 locations in Suzhou, Shanghai, Nanjing, Changzhou, Wuxi, Hefei, Xuzhou and Beijing.
"Compared to Beijing and Shanghai where there are myriad of fancy restaurants and bars that are dazzling to the eye, Blue Marlin is better known in smaller cities such as Suzhou, Changzhou and Wuxi. It's a 'home away from home', for expats in these local communities," says Sheng Xueyong, head chef of Blue Marlin Beijing, who has also worked at the chain's Suzhou location.
Blue Marlin's specialty lies in variety, providing a tour of global food. Burgers, Tex-Mex, pasta, barbecue, Spanish seafood rice, Vietnam Pho, Thai curry ... as long as you can fathom it, you can find your home food there.