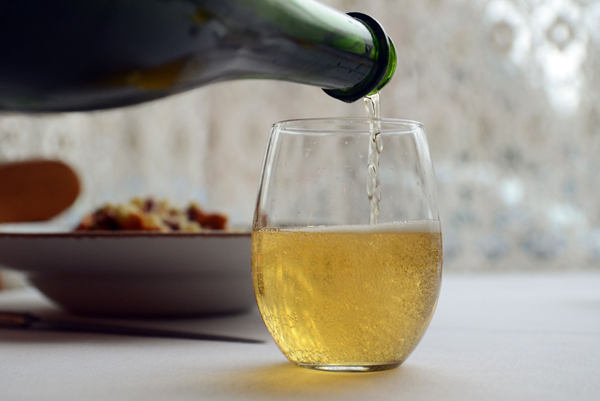 A cider is poured at Hazelnut Kitchen in Trumansburg. [Photo/Agencies]
My boots were soaked, and the air reeked of overripe apples. I felt as if I were bathing in the cider I'd come to drink. It was early October and steamy; if the leaves that blazed red from nearly every tree branch were seasonal stop signs, the gods of summer hadn't seen them.
I was a few miles from Cayuga Lake, the second-largest of New York's 11 Finger Lakes, on a small but extraordinarily prolific orchard. The property's fruit, which ranged from the palest wash of yellow to grapefruit pink to a purple so dark it looked like a fresh bruise, was hanging all around me and rotting underfoot.
Our host, Ian Merwin, ripped a Hudson's Golden Gem from a nearby limb and, with a worn pocketknife, cut an imperfect wedge. It's a "really bizarre" apple, said the orchard owner, who wore a walrus mustache and a newsboy cap. He described sandpaper skin and a grainy flesh. "This apple, to me, tastes like vanilla ice cream," he said. The crowd oohed and aahed like circusgoers.
Of the 68 varieties in his orchard, Merwin, a recently retired Cornell University researcher and internationally recognized horticulturist, clearly had his favorites. The novelties, like the Hudson's, were among them. But there were also other, less glamorous apples. Some of the varieties are hundreds of years old; others were developed by Merwin himself. They are sharp, tannic or bitter-unfit to be "dessert apples," as the eating, baking and pick-your-own varieties are dismissively called by cider makers, but perfect for juicing and fermenting. These apples are rare, peculiar, heirloom fruit. They are what I had come for.
Though I had a youthful flirtation with cider-accessible labels, like Woodchuck, which I could pick up at the supermarket-I found that as I learned more about the world of drink, I left cider behind. In contrast to the elaborate cocktails and curious craft beers that were suddenly everywhere, the sweet, fizzy, lightly alcoholic stuff I'd been drinking seemed unsophisticated, even childish.
But on a trip to the Hudson Valley last year, I was surprised to find ciders on the menus at inventive restaurants and at bars where Woodchuck would have never been welcome. And so last fall, I decided to return to upstate New York to explore the state's cider scene.