Rising year for 'dragon robe' designer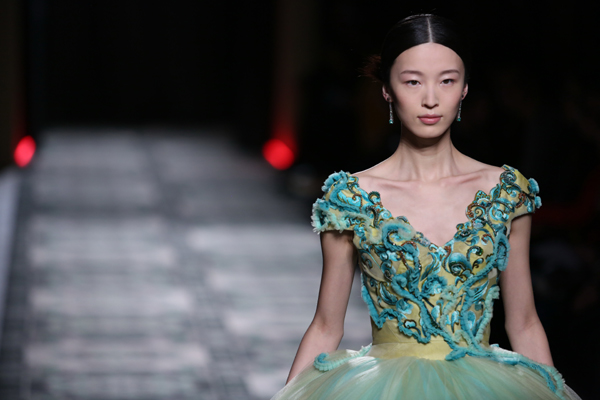 A model presents creations by Laurence Xu at the Paris Haute Couture Fashion Week. Photo provided to China Daily
The year 2015 is a big one for Laurence Xu.
On Jan 27, Xu became the first Chinese designer to present a catwalk show for two years running at the Paris Haute Couture Fashion Week. From May through August, one of his signature dresses will be exhibited at the Metropolitan Museum in New York at its major exhibition China: Through the Looking Glass.
Haute Couture is an expression of French national pride and Parisian self-belief, so the committee has a very tough procedure to approve foreign designers' applications. But Xu's couture impressed the committee so much that he was invited to return.
China: Through the Looking Glass is this year's themed exhibition of the Met's Costume Institute. Anna Wintour, US Vogue's editor-in-chief, and curator Andrew Bolton selected designs for the exhibition that explore how China has fueled Western fashion's imagination. Xu is one of the few Chinese designers who stand alongside some of the biggest names in the industry, such as Tom Ford, John Galliano and Karl Lagerfeld.
"It's my honor to be considered the Chinese representative at such international events," Xu says.
"As a designer, I want to make beautiful dresses. If my works can serve as a window through which people can see Chinese culture, that would be wonderful."