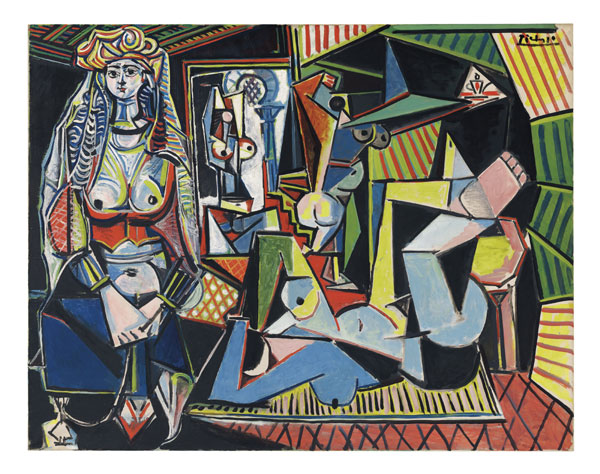 Christie's spring auction in New York in June will offer Pablo Picasso's "O" version of Les Femmes d'Alger.[Photo provided to China Daily]
Christie's auction house is set to bring works of "old masters", paintings from the 14th to 19th centuries, to the Asian market.
The international auction house has already successfully introduced impressionism to Chinese buyers of Western art and is now hoping to educate the market on the European painters.
Throughout April, Christie's has taken the works that will be auctioned in New York in June, on tours to Beijing, Shanghai and Hangzhou in Zhejiang province. Following the showings were lectures aimed at educating potential Chinese buyers on the classic works by painters such as Raphael, Rembrandt and Rubens.
This is the first time Christie's has toured old master works to China. The auction house has established an office in Hong Kong especially for Chinese interested in buying such artwork.
"Great art goes where the money is," says Nicholas Hall, co-chairman of Old Master and Early British Paintings at Christie's.
Many of the "old masters" were bought by British entrepreneurs during the Industrial Revolution and were sold to US businessmen in the last century.
Sales of such works in the past two years were sluggish, mainly due to a shortage of masterpieces and the difficulty in authentication. Currently, collectors of this category are mainly in Europe and the United States. But frequent purchases from Chinese buyers are beginning to lure auction houses to the country. "China is a potential market for us. They have already started buying 'old masters'," Hall says.
Hall says Christie's has sold a number of works by famous painters such as Raphael and Rembrandt, but some less-known artists are also among the collection list of Chinese buyers.
For people who have just started collecting, says Hall, they don't necessarily want to spend millions of dollars on big names. Instead, they invest something like $500,000 on, for example, a still life by a little-known artist. Sales show that Chinese buyers are interested in paintings depicting the lives of aristocrats in 18th century France.