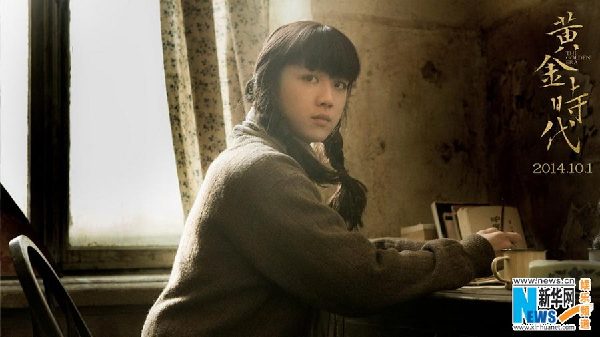 Poster for "The Golden Era". [Photo/Xinhuanet/Ent]
The Golden Era, a biographical movie of Xiao Hong, one of China's most famous essayists and novelists, won the Best Film of the 34th Hong Kong Film Awards Sunday evening.
Actor Sean Lau from Hong Kong and actress Zhao Wei from the Chinese mainland respectively won the Best Actor and the Best Actress by staring the latest Hong Kong action movie series Overheard 3, and Dearest, a movie on kidnapping in China.
The Golden Era was the biggest winner at the awarding ceremony. With nominations for up to ten titles, the movie also won the Best Cinematography, the Best Art Direction, the Best Costume and Makeup Design, with its Hong Kong director Ann Hui winning the Best Director title.
The Golden Era had been selected as the Hong Kong entry for the Best Foreign Language Film at the 87th Academy Awards, although it was not nominated.
It was the first time for Zhao to win a Hong Kong Film Awards title, though she has been nominated twice. Zhao said at the ceremony that she really did not expect anything from the awards this time and attributed the success to the movie's director Peter Chan.
With a total of 13 nominations, Overheard 3 also helped Alan Mak and Felix Chong win the Best Screenplay for writing a sophisticated story in the crime-thriller movie.
Ivana Wong, a 35-year-old Hong Kong actress who started a career as a singer ten years ago, starred four movies in 2014, three of which were nominated for the Best New Performer this year. Wong won this title for performance in Delete My Love, and also won the Best Supporting Actress for Golden Chicken SSS.
Coming Home, which tells a love story through China's cultural revolution directed by Zhang Yimou, won the Best Film from Mainland and Taiwan.
Founded in 1982, the Hong Kong Film Awards has been the most prestigious movie awards in the region and one of the most recognized in the Chinese mainland and Taiwan.
Related:
Infographic: Quick guide to HK Film Awards