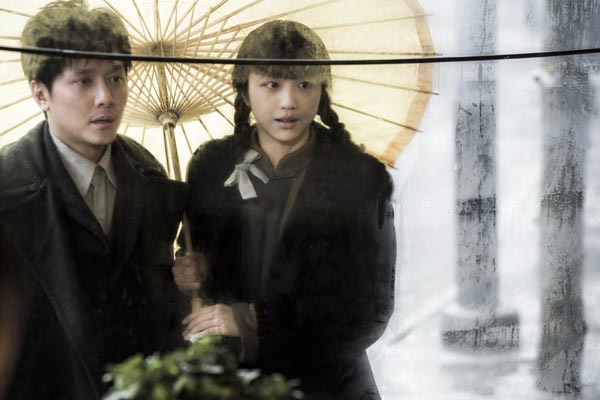 A scene from The Golden Era features Feng Shaofeng as Xiao Jun and actress Tang Wei as Xiao Hong. Photo provided to China Daily
It is hard to miss Feng Shaofeng's face in large posters plastered on the walls of
Beijing
's subway stations, promoting The Golden Era, a Chinese
movie
that will be screened in cinemas during the country's upcoming "golden week", the National Day holidays.
Feng, 36, a mainland A-listed actor, recently made headlines with two new movies, The Golden Era and Wolf Totem.
The former movie has been selected to represent Hong Kong in the foreign films category at next year's Oscars and the latter is an animal epic by French director Jean-Jacques Annaud, a Sino-French production adapted from a Chinese best-seller.
The Shanghai-born actor, who began his career in 2001, and has gained fame from starring as a Qing Dynasty (1644-1911) prince in the time-travel TV series Palace I in 2011, tells China Daily that he is lucky to play Xiao Jun, a left-wing author and the husband of novelist Xiao Hong (played by Tang Wei), in The Golden Era.
Slotted as the closing film of this year's Venice International Film Festival that ended on Sept 6, The Golden Era tells the story of Xiao Hong's eventful life in the most turbulent times in modern Chinese history. Her birth in 1911 in Heilongjiang province coincided with China's shift from dynastic imperial rule to becoming a modern republic.
The Golden Era's director Ann Hui, the only artist who has won Hong Kong Film Awards' Best Director four times, is his idol, Feng says. "I had wanted to work with her for many years." But when he finally met Hui in 2012, the two just had a casual chat, and the director didn't talk about the movie.
But a few days after their meeting, Feng received a script from Hui and was immediately taken by it.
"Hui didn't cast me as Xiao Jun in the beginning," Feng says. But he says he could relate to the strong personality of Xiao Jun, who saves the then-pregnant Xiao Hong when she is abandoned by her fiance, and marries her afterward. Feng calls Xiao Jun, a man "very close to his heart" because he is never the one to hesitate in expressing love or hate.