Milan Fashion Week brings fashion world closer to citizens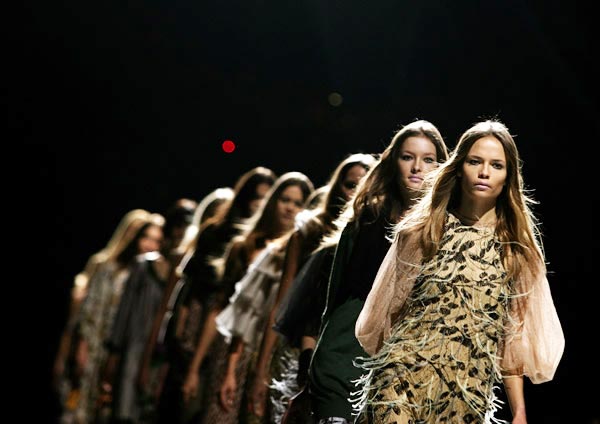 The Spring/Summer 2015 Milan Fashion Week ended on Monday after six days of runways surrounded by a variety of scattered events aimed at bringing the fashion world closer to citizens. [Photo/Xinhua]
Fashion is a key sector of the Italian economy, and organizers have realized the importance of involving people and especially the young generation in its development, Cristina Tajani, Milan councillor for labor policy, economic development, universities and research told Xinhua.
"This edition we have particularly invested in presenting fashion not only as a sector reserved to professionals, but also as a productive pillar of the Italian economy open to everyone," she said.
According to the National Chamber for Italian Fashion, the country's fashion industry - textiles, apparel, leather goods and footwear - will post a 4.2-percent growth in turnover and 4.8-percent growth in exports this year compared to 2013.
The 2014 turnover is expected to be nearly 62 billion euros (almost $80 billion) and exports more than 47 billion euros (over $60 billion).
Besides 67 runways presenting the creations of big fashion firms such as Giorgio Armani, Salvatore Ferragamo, Prada, Gucci, Tod's and Roberto Cavalli as well as newcomers, dozens of events livened up Milan.
The local government, universities and the numerous design schools of the Italian northern city had a role in the initiatives, many of which were open to passers-by and free of charge.