Designer Masha Ma inspired by flower power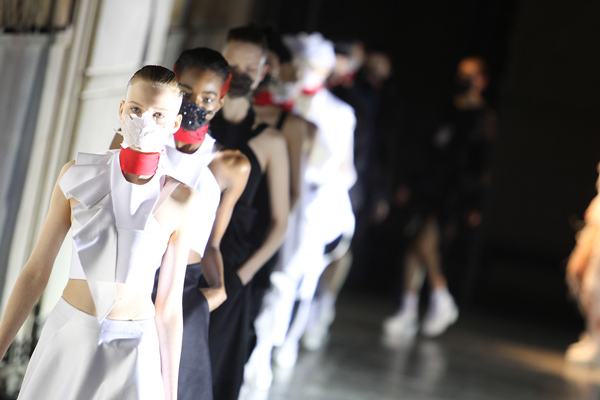 Models walk the runway during the Masha Ma show as part of the Paris Fashion Week womenswear F/W 2014-2015 in March. Photo provided to China Daily
Masha Ma borrows from the botanical world for her latest fashion concepts. Sun Yuanqing speaks with the dynamo about her plan to blossom from a designer into a brand.
Masha Ma believes the women she designs for are like the epiphyllum flower from which she takes inspiration.
The fragrant flower that blooms once every few years at midnight served as the source of the concept for the T-shirt the 31-year-old created as one of nine Chinese designers commissioned for Vogue's Fashion Night Out. The event was hosted in Beijing by Vogue China on Aug 31.
The event, inaugurated in 2009, is an annual celebration of fashion and shopping in metropolises such as Shanghai, Milan, Paris and London.
"(The women) don't cry for attention, but they don't stay silent either," says Ma, who serves clients of Lady Gaga proportions.
"The epiphyllum is beautiful because it's feminine, and it withers after that particular moment. They bloom for themselves - not for others. I hope that women can blossom like the epiphyllum, regardless of what others think."
Ma attended the event clad in her T-shirt, a black blazer, heels and a pencil skirt with a slit on the back.
The FNO shirt is one of several gestures to share her design philosophy with the public.
Ma is also participating in The Goddess' New Dress, a popular weekly reality show that features six pairs of Chinese designers and celebrities who present a new clothing collection every episode.
Celebrated brands auction their creations, which are also promoted on Taobao, China's largest shopping website.
"It's a very good way to let the general public to know more about fashion and design, and no longer feel intimidated by it," Ma says.
On the TV show, Ma works seamlessly with singer Shang Wenjie, who has been wearing Ma's designs on such occasions as MTV appearances. Shang is known for her bold style and musical talent, which Ma says befits the "Ma woman" persona she envisioned.
"It's about being independent and believing in yourself regardless of the outside world," Ma says.
"It's about the courage to say goodbye to the past, whether it was successful or not, and go straight ahead."
Ma says the show is only a small part of her work. Her battlefield is Paris, where she has been showing collections biannually since 2012, and her fight is to push a new generation of contemporary Chinese designers onto the global stage.