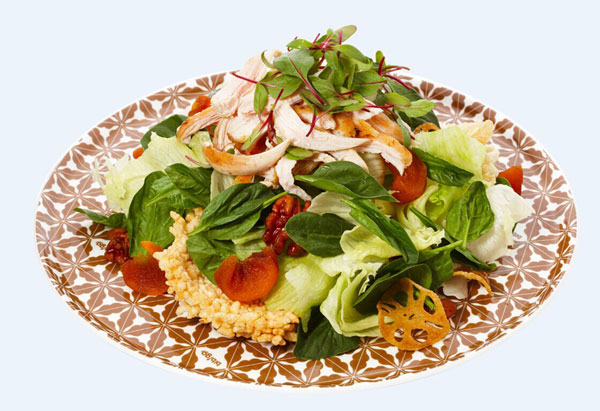 Bibigo autumn salad.[Photo provided to chinadaily.com]
Beer and fried chicken never tasted so good, especially after the combo was popularized by the K-Pop drama serial Love from the Stars. Pauline D. Loh tells you where to find it in Beijing.
The sultry afternoon wind still has hints of summer in it as we settle into the al fresco terrace outside Bibigo's Indigo outlet, just off the arty boundaries of the 798 District. Even as we examine the menu, we are distracted by a life-sized, white suited Psy grinning at us from the full-length shop window.
Psy is spokesman for the Bibigo restaurants, owned by the South Korean food giant CJ Group, which also operates the popular bakery Tous Les Joules.
It has several outlets in Beijing, at choice locations such as the China World Mall and Lido, but for ambiance and location, it is the restaurant at Indigo that takes the prize.
The current promotion is all about the autumn ingredients such as lotus roots, mushrooms and the baby octopus. My eye linger over the Bulgogi and Octopus Hotpot set until I see the Fried Chicken and Beer set.
That's it. After hearing so much about South Korean fried chicken and beer, I would finally get to taste it, and at such pleasant surroundings at that. I make the spouse order the Octopus hotpot so we can share it.