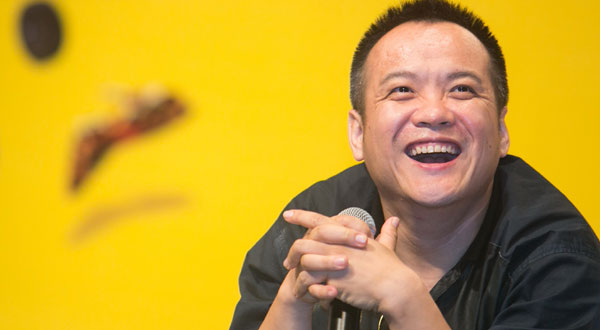 Chinese director Ning Hao continues his exploration in comedy films in his latest production, Breakup Buddies. Provided to China Daily
Ning Hao's new 'pink comedy' departs from the black humor that has defined his career. Wang Kaihao places the film in the debate surrounding low-budget comedies' success.
Ning Hao shows a new hue with his latest film Breakup Buddies.
The 37-year-old director, who's nicknamed "China's Guy Ritchie" for his black comedies, such as last year's No Man's Land, shows a different shade of his artistic palette with what he calls his first "pink comedy".
The road trip romance will be released on Sept 30.
The film features his longtime partners, comedians Huang Bo and Xu Zheng, who also appeared in No Man's Land.
The duo travel across southern China, hunting for hot women and one-night stands. They instead find the meaning of love.
The narratives aren't overly complex, and the scenery is stunning.
Referring to his "pink comedy" concept, Ning says: "My comedies also need color. It's not easy for me to put so many actresses in one movie. Why not create something eye-catching?"
Ning doesn't automatically focus on big names. Some actresses are former extras who've never had a line in a film.
"(But) they're the characters I want," Ning says.
Xu believes the film is likely an exception, rather than a new rule, in Ning's legacy.
"He'll return to his previous path," Xu says.