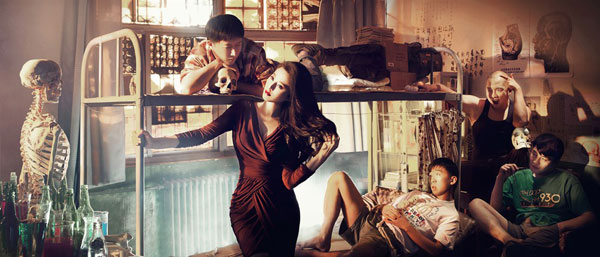 Ever Since We Love has drawn people's attention even before its release on Friday, with its appealing storyline and a strong cast including Han Geng (left) and diva Fan Bingbing. [Photo provided to China Daily]
Chinese movie Ever Since We Love (Wan Wu Sheng Zhang) is creating a buzz even before it hits cinema screens.
Based on the 2013 best-selling novel Everything Grows by Zhang Haipeng, who is better known by his pseudonym Feng Tang, the movie revolves around the life of a medical student and his emotional struggles that involve relationships with three women: a childhood sweetheart, a college mate and an older "sexy" woman.
Billed as an exciting tale of love and lust by the cast and crew, the movie is slated for mainland release on Friday.
Chinese micro-blogging site Sina Weibo is already buzzing with conversation about the new movie, whose director Li Yu even ventured would become the most "sexual" ever to be screened in Chinese cinemas, something she attributes to it being based on a novel about sex.
Li, who is well-known for her directness in dealing with taboo subjects, is a celebrated moviemaker.
She is said to have brought out the best acting skills of Han Geng, a pop singer and Chinese star, who plays her movie's protagonist. In the past, his acting capabilities were questioned by critics.
Han, who shot to fame in 2005 as the only Chinese singer in Super Junior, a South Korean band, debuted in the martial arts drama My Kingdom in 2011.
Li's main strategy to get Han to act better was to "bring him down a few notches" from his star status and get him into the skin of the role of a desperate medical student.
Fang Li, the movie's producer, jokingly revealed at a recent media event: "Before shooting began, Han used to give everyone a grin. But by the time it ended he was nothing but nervous smiles."