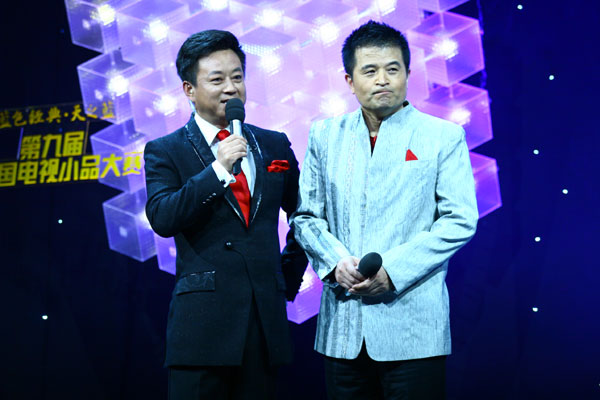 Bi Fujian (right) is reportedly to be replaced by Zhu Jun (left) to host the TV show Xingguang Dadao, after a video of him mocking late chairman Mao Zedong goes viral online. [Photo provided to China Daily]
China Central Television host Bi Fujian is reportedly to be replaced by his colleague Zhu Jun on one of State media's most popular shows Xingguang Dadao, or Avenue of Stars.
Bi was recently suspended from the TV station after a scandal in which he was secretly recorded verbally insulting China's late chairman Mao Zedong and the revolution.
One of the oldest and most popular hosts at CCTV, Bi, 56, joined the TV station in 1989 and has gained nationwide fame since 2005 for his comic hosting style on grassroots talent show Xingguang Dadao. Having run for 10 years, the show remains one of CCTV's most watched TV programs.
Bi was also chosen to co-host CCTV's annual Spring Festival Gala, one of the country's most important cultural events, for four years running since 2012.
But his career faced a quick downturn after a video was released on weibo, a Twitter-like micro blog platform, featuring Bi using vulgar words to describe chairman Mao.
In the video, Bi was apparently trying to amuse his friends at what appeared to be a private banquet, by singing a Chinese opera, which was later recognized by netizens as part of the model opera, Taking Tiger Mountain by Strategy. Developed during the "cultural revolution" (1966-76), model operas mixed traditional performances with Western theatrical forms to feature revolutionary themes.
At first all appeared normal, except Bi ended each sentence with self-improvised content that was mocking and dismissive toward Mao and the revolution. For example, after singing the original lyrics "where the red flag points the dark clouds disperse. People in revolutionary regions overthrow the landlords and free themselves", Bi sang, "Hah, what have the landlords done that offended you?"