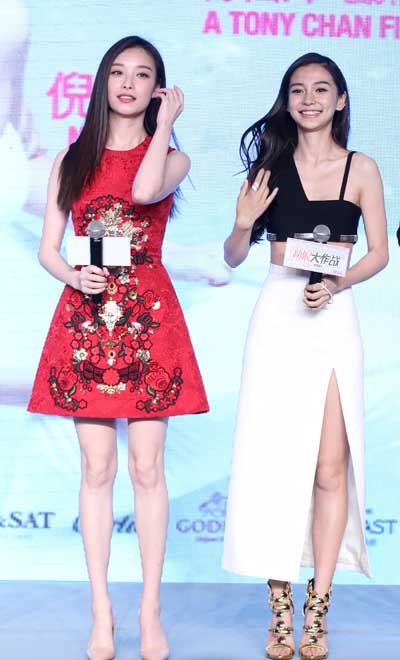 Chinese actresses Ni Ni (left) and Angelababy attend a press conference for their upcoming film Bride Wars in Beijing on April 1. Photo provided to China Daily
Bride Wars, a Chinese remake of the US movie by the same name, will hit mainland theaters in China on Qixi Festival, the Chinese equivalent of Valentine's Day that falls on Aug 20.
The Chinese movie that takes its name from the 2009 romantic comedy, features the tale of two best friends turned foes, whose weddings are scheduled on the same day and at the same hotel.
Kate Hudson and Anne Hathaway's enjoyable roles as the brides-to-be, have their Chinese versions now starring Hong Kong-based Yang Ying (more famous as Angelababy), and Nanjing-born Ni Ni.
The A-list Chinese actresses are expected to engage their fans with a clash of their screen personalities in the movie.
"I play a gentle dance instructor. Ni's role (an online store owner) is a bit tough and aggressive. We grow up as best friends since childhood," said Yang of the movie, at a media event in Beijing on April 1.
"My role hardly refuses her best friend's requests, but for the first time she says 'no' as her wedding is a lifetime priority ... . I suppose every bride-to-be thinks and acts in similar ways," said Yang, giggling.
Bride Wars is the first production after a movie cooperation agreement was signed between Chinese entertainment giant Bona Film Group and 21st Century Fox in 2012.