An A for Bistrot B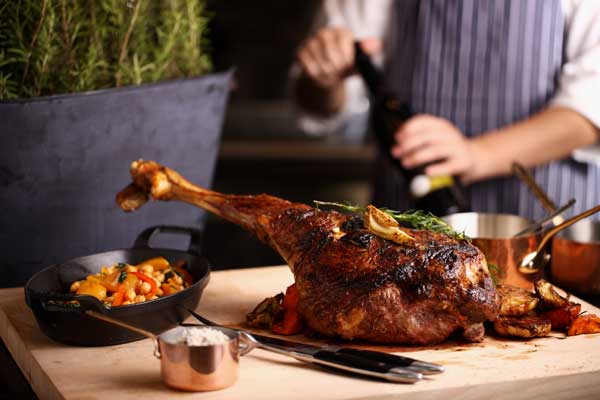 Chef Jarrod Verbiak prepares dishes at Bistrot B at Rosewood Hotel in Beijing. The new eatery in the capital features a variety of treats including the foie fras burger, a pate maison with artisanal mustard and the roast lamb shank. Photo provided to China Daily
Springtime in China is a season of awaking willows, sweet plum blossoms and bright, welcome sunshine. On the Beijing dining scene this year, it's the season when executive chef Jarrod Verbiak has come into his own at a new capital hot spot, Bistrot B.
As the luxury Rosewood Hotel entered its fifth month of a gradual soft opening, Verbiak was preparing dinner for the prestigious Chaine des Rotisseurs, an international association of gastronomy now established in more than 80 countries. A week later, Verbiak was on stage with his team to collect accolades at the Beijinger magazine's restaurant awards, including best new hotel restaurant and outstanding French (casual dining).
Chaine's Beijing chapter dinners attract gourmands from around China and beyond, including a lot of five-star hotel GMs. Verbiak-and the host hotel-were more than ready, greeting cocktail-hour guests with drunken shrimps in Shaoxing wine. Dinner began with a Bistrot B staple, golden chicken from local supplier Shunyi Farms, but served in a wrap with foie gras "en pressee", early spring asparagus and black-truffle vinaigrette.
The chef also drew inspiration from the regular menu to craft a slow-baked black cod, this one with scented fava beans, leeks and preserved lemon condiment.
If you are thinking this sounds like the sort of meal that can make French food painfully precious-with dainty portions that leave you hankering for a McDonald's stop on the way home-fear not. Verbiak, a longtime protege of celebrity chef Daniel Boulud, is no fan of itty-bitty food, and says he'd be a failure if you left his restaurant hungry.