For French baker, China is all about love and loaves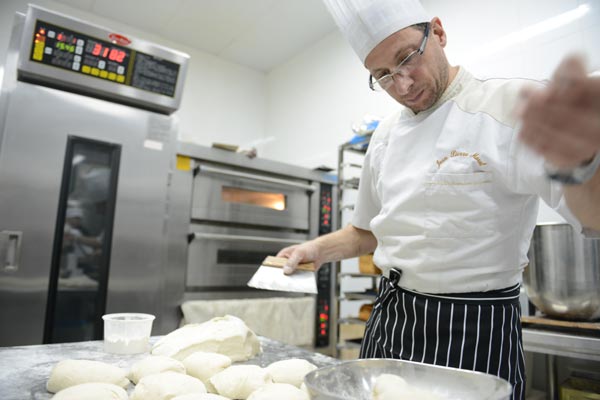 Bruno Maestrini / China Daily
French native Jean-Pierre Morel, now in his 50s, has loved the smell of baking since he was a little boy. At the age of 16, he became an apprentice at a bakery in Paris. When he was 24, he opened his first bakery, and now has three independent bakeries in the French capital.
At the time, he hardly imagined that his next bakery would be in China.
In 2008, a turning point came into his life. At a friend's party, Morel met a charming Chinese woman close to his own age named Jenny. She had been living and working in Paris for two decades, and by their second meeting, the two knew they were in love.
"He heard I liked fried duck with cherries, and cooked it for me, and I just fell in love with him as soon as I took the first bite of the food," she says. "We've never been apart since then."
They got married in Paris, and every day, she woke up to the pleasant smell of fresh bread Morel was making.
But their friends and relatives in Beijing, where Jenny was born and grew up, often complained they'd never found such great French bread after they tasted Morel's.
In late 2012, the couple decided to move to Beijing to open a French bakery. Morel had visited the Chinese capital before and liked the city.
"Beijing is a city of promise and energy, and I was surprised to find many Beijing people like French bread, only that they couldn't find original French bread at a reasonable price," Morel says.
In May 2013, they opened a bakery in Shangdu SOHO, which quickly won a loyal following of office workers nearby, but the 20-square-meter shop was too tiny to expand, and the locally bought ovens lacked the quality Morel wanted.
That fall, with help of investors, the couple opened a studio to train apprentices, and relocated the bakery to the Sanyuanli market, close to expat communities that were looking for quality French loaves and desserts. While their breads are expensive, compared with prices at local franchised bakeries, Jenny says Morel's baked goods are a bargain compared to breads sold in luxury hotels-often the only bread source of comparable quality.