Kunming's 1910 'station' boasts century-old charm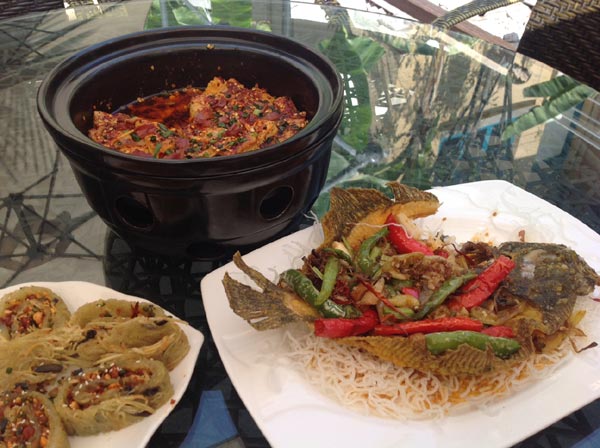 Fried turbot is beautifully presented in a "bowl" made from the whole fish skin, after the meat has been filleted. Potato rolls and mapo tofu complete this meal. Photo by Mike Peters / For China Daily
It's a Sunday afternoon in Kunming, the provincial capital of Yunnan, and warm weather has drawn a crowd to the outdoor dining deck of 1910 La Gare du Sud.
Sited where the community's south railway station once stood, the restaurant boasts an airy, light interior with pleasant seafoam-green walls. But the sunshine is more compelling, and the al fresco tables are in big demand.
We start by ordering beer along with a local specialty, deep-fried cheese rolls with rose-jam filling and garnish, and begin to peruse the menu. Ironically, this simple start would be the staff's biggest challenge of the afternoon, at least for our table. Two cold beers quickly appear on the service counter near our table, and stand unnoticed by the servers, who are admittedly quite busy.
The bottles stand, sweating in the warm, open air, like a pair of ill-fated train passengers waiting for a long-delayed train. We try in vain to flag our server's attention.
After she finally collects our now tepid beers, she also retrieves our appetizer, which has apparently stood somewhere out of our sight for just about as long. The beautiful cheese rolls have lost their fresh-made crispness and become cold and quite greasy. Suddenly the beer is more attractive.
After that inauspicious start, however, we begin to learn why this neo-colonial-style eatery is a guidebook favorite. Fried potato rolls with Yunnan ham and mushrooms are a winner, though light on mushrooms and heavy on peanuts. The result is perfectly tasty, but in the land of 600 and something native mushrooms, we expected a bit more fungal oomph.
Heated casserole pot of mapo tofu and Yunnan ham is spectacular and piquant with spice. (Mercifully, our second beers arrive quite promptly.)
In Yunnan, it's easy (and pleasant) to end up with ham and mushrooms in every dish, but the menu here is broad and delivers variation on the theme.
Pan-fried turbot arrives, beautifully presented in the fried whole fish skin that seem to bob like a boat on a sea of white rice crackling. Inside the "bowl", tender cubes of filleted fish are tossed with daikon and three kinds of chilies, generating a red, white and green tang that is edgy without being Sichuan-style numbing.
All of this is made more charming in the outdoor setting, with its natural decking and flourishes of banana trees and flowering vines creating a bit of tropical fantasy.
The inviting decor and consistently good food has made the restaurant a hit with both foreigners and affluent locals.
If you go
1910 La Gare du Sud
Huoche Nanzhan (down an alley off Chongshan Lu), 871-316-9486.
Related: