A carnival for foodies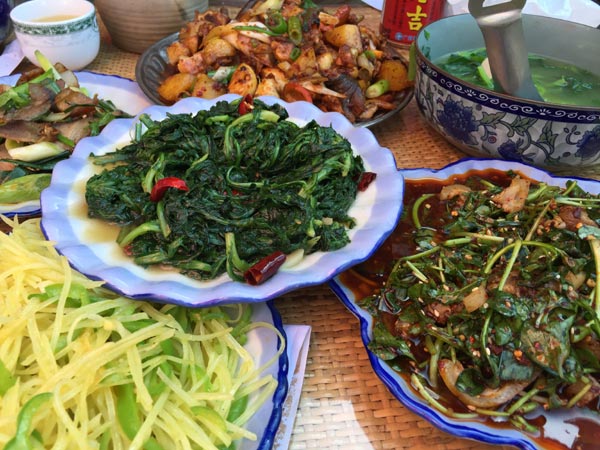 Fresh vegetables and mushrooms are the basis of many dishes in Yunnan. Photo by Mike Peters / For China Daily
On many holidays, I've found myself sitting with women who were chatting eagerly about shopping. In Yunnan province, however, the shopping can take on a nursery-rhyme quality. My friends are going to market to buy a fat pig.
The region is famous for its pork, and visitors who are in the food industry often plan a side trip to Xuanwei town in Qujing prefecture, a day trip from Kunming or Dali. There, Yunnan's most famous butchers await.
I'm not ambitious enough to ship a whole leg or even one of those tempting hams back to Beijing. Instead, I head to the local market in Xizhou, a village in Dali, where more manageable pleasures await.
This market is a carnival for foodies. To get there, we walk through a sea of garlic fields, ruffled by a lake breeze from nearby Erhai that makes the very air taste like lunch.
In the heart of a province where agriculture is king, all kinds of treats await in this huge network of stalls. The local mushrooms are famous, and we're always sure to find some new, wonderfully weird fungi. They can be pungent or delicately fragrant, earthy or oddly sweet. Best of all, like other produce, somebody is likely to be cooking them here, so we can immediately see how to use it.
Because this old Silk Road stop is close to Southeast Asia-in the days of the Dali Kingdom it was the regional power-all kinds of tropical fruits and vegetables competed for our roving eyes. There are beautiful little striped melons, fat mandarins, bright green limes and creepy snake fruits-spiny, dark red devils about the size of kiwifruit but pointed on both ends. They're tart and troublesome to eat, and much of the core is a big seed. But they look too tempting for any modern Eve to pass by without taking a bite.