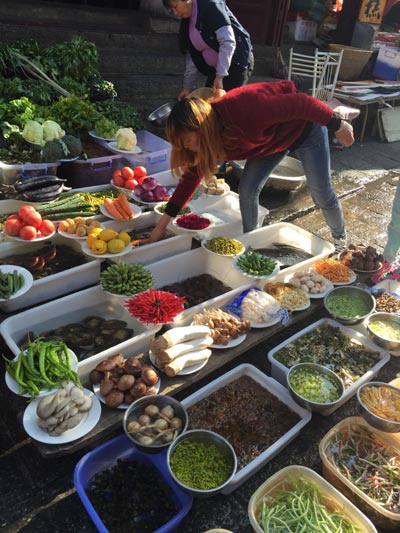 One street-side restaurant in Dali old town allows customers to pick the produce that will be cooked for their dinners. Photo by Mike Peters / For China Daily 
Rice crisps in bright colors, fussy live chickens, plastic pools full of lake carp and open sacks of dried spices in every hue are also part of the siren song of the morning market.
Vendors press the oil from grapeseed with ear-piercing grinders. Cheesemakers hang strips of the flat local goat cheese in the sun to cure and dry. Little old ladies in pink and yellow headdresses grill fish with tamarind paste. Other women patiently brush Asian pears in large tubs with a warm vinegar solution. The slightly briny fruit is surprisingly refreshing.
We also get a lesson in making erkuai. This simple rice dough finds its way into local noodles, buns, cakes and pastries, and it's fun to watch noodle makers stretch the stuff into long, elastic sheets. The name literally means "ear piece", because of the shape of one of its common forms. Kao erkuai is a popular street food version, grilled and wrapped around a strip of fried dough with sweet or savory condiments, a bit like a burrito.
Weston Anderson, our guide from the nearby Linden Center-a boutique hotel and culture center with cooking classes-shares another Mexican parallel: He fries flat rounds of the dough to make ersatz taco shells.
On our last day in Dali, we visit one of the area's many tea plantations. This small hillside farm produces tea only for local use, and gets about 40 visitors a day. That will pick up in April and May, our host tells us, as harvest season brings tea lovers out to pick and brew their own tea. We sit in the tasting room to learn some of the fine points of enjoying the green tea and the fermented pu'er types. The plantation has been in operation for 55 years, and boasts the name Mo Cui Cha Shai. That translates to "don't worry, take your time", and as we sit on the hillside deck enjoying a few last sips of our fragrant brews, we savored the laid-back sense of leisure that Dali offers in a escape from the big-city buzz of Beijing.