Origins of British-style 'afternoon tea' in Shanghai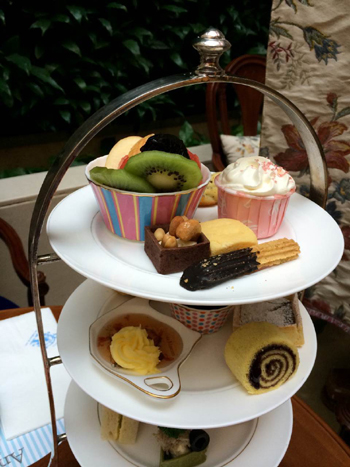 A three-tier cake stand packed with afternoon treats. [Photo provided to chinadaily.com.cn]
Drinking tea has long been a particular part of Chinese culture. Knowledge about the subject is as rich as that of Westerners about drinking coffee. But in Shanghai, the largest metropolis in the country, it is seemingly not the case.
In big restaurants and hotels, the most popular drink is afternoon tea, usually in British style. A typical gathering to be found in the city is two or four neatly dressed ladies having a 3-tiered set tea with finger-sized treats and black tea served in English porcelain cups.
On the top tier of the stand are usually found dainty pastries; scones, always with jam and clotted cream, are on the second level and sandwiches at the base.
According to English friends, scones are an integral part of tea and could even be considered a yardstick of authenticity and quality.
In other parts of China, tea is never consumed in such a sophisticated manner.
People have tea at any time, in any place, with or without snacks or meals. Even with snacks, it is usually dim sum or pumpkin nuts. In many places retired people like to play mahjong over a pot of green tea.
Apart from the ambience and snacks, another difference is price. Classic British-style afternoon tea for two at the heart of Shanghai costs from 400 to 800 yuan on average, while in other cities you need only spend around 100 yuan for dim sum and tea, sometimes including a table on which to play mahjong for hours.
But how come the most densely-populated Chinese city is not that Chinese? To answer that it is necessary to go back to the history books.