A seasonal feast of spring lamb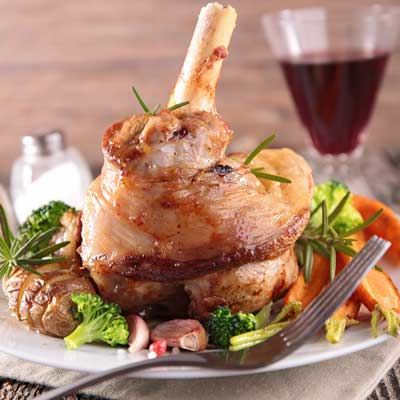 Spring lamb always serves as the main dish at the festival feasts of Easter in Greece. Photo provided to China Daily
The season of spring lamb has always been an occasion for festival feasts in ancient cultures. In Greece, the tradition is manifest at Easter-and whether people celebrate the holiday this weekend or on the Greek date, which this year is April 12, they are consuming meat seasoned with savory herbs that were traded by merchants of the ancient sea power as long ago as the 5th century.
That hasn't always been conventional wisdom. Ancient shipwrecks loaded with thousands of vase-shaped amphorae had long convinced archaeologists that Greek trade revolved around wine. But researchers have recently been able to test the contents of jars recovered from the bottom of the Mediterranean. The residues' DNA proved to be olive, juniper, pine, legumes, ginger, walnut and herbs of the Lamiaceae family: mint, rosemary, thyme, oregano and sage.
Many of those foods produced by ancient Greeks find their way to the contemporary table for Easter celebrations.
The Bible records that Jews sacrificed lambs to please God after their passage from Egyptian slavery to freedom. Christian celebrations of Easter-the passage from death to life through the resurrection of Jesus Christ-have traditionally used the innocent lamb as the symbol of Christ.
In Greece, Easter is the biggest holiday, associated with the coming of spring and the rebirth of nature. That's why the roasting of the lamb is a tradition of great joy and celebration-especially since locals who are religious abstain from eating meat during Lent, the 40-day season of fasting and penance before Easter.
Lamb on the spit (arni sti souvla) is the traditional Greek way of serving lamb at Easter. The holiday is a very social occasion and there will always be large gatherings for the lamb, and people from the neighborhood, friends, family will be invited. Everyone will take turns at turning the spit, or helping out with other preparations, and long tables are prepared under the shady trees for everyone to sit down and enjoy the wine, food, company and music.
This recipe is also ideal for preparing great-tasting lamb for another party at any time of year.
Katerina Stai is a Greek chef, cookbook author and blogger. See more of her recipes at oliveoil-culture.com.
Mike Peters contributed to this story.